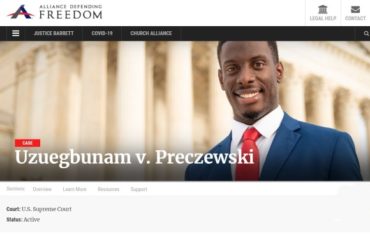 Georgia Gwinnett College repeatedly blocked a Christian student from evangelizing on campus more than five years ago. Today, its administrators have agreed to pay the price.
Georgia Gwinnett College will pay $800,000 to settle a lawsuit filed against it by the silenced Christian student, Chike Uzuegbunam, his attorneys with Alliance Defending Freedom announced Wednesday. The payout represents "nominal damages and attorneys' fees."
The decision comes after the U.S. Supreme Court ruled in March 2021 that just because the public college had amended its restrictive free speech policies to align with the U.S. Constitution in an effort to make the lawsuit moot does not mean the plaintiff cannot collect damages stemming from the original complaint.
In December 2021, a federal district court ruled the case could move forward on its merits.
"This case should … remind other colleges and universities nationwide of the need to respect their students' liberties. If they do not, they can and will be held accountable," ADF Senior Counsel Travis Barham stated in a news release.
The controversy dates back to the spring of 2016, when campus officials repeatedly restricted how Uzuegbunam could communicate with passers-by on the public campus, even stopping him from proselytizing in a designated free speech zone. Uzuegbunam hails from a Christian tradition that emphasizes the distribution of religious tracts and public preaching.
Campus leaders told him he couldn't distribute in front of the library because it wasn't in one of two campus free speech zones and he didn't have a permit, according to the original lawsuit.
But when he reserved a free speech zone specifically to distribute tracts and preach the Christian gospel, college officials required him to stop because his speech had generated complaints and informed him his speech constituted "disorderly conduct" because it had generated complaints.
Another student, Joseph Bradford, was a co-plaintiff because the college's pre-litigation actions against Uzuegbunam – slapping him with "disorderly conduct" while in the free speech zone because he offended someone – chilled Bradford's plans to engage in similar evangelism.
"After ADF attorneys challenged the unconstitutional policies, Georgia Gwinnett College argued that Uzuegbunam's speech should receive no constitutional protection, changed its policy, and claimed it should be able to avoid any penalty for violating Uzuegbunam's constitutional liberties. Two courts agreed, but the U.S. Supreme Court did not, ruling 8–1 in Uzuegbunam's and Bradford's favor, prompting the district court to hear the case again and also rule in their favor," ADF stated in its news release Wednesday.
Just one month ago, in May, Georgia Gov. Brian Kemp signed the "Forming Open and Robust University Minds Act" into law. It designates all unrestricted outdoor areas of campuses as public forums and prevents the creation of "free speech zones."
MORE: Public college sued for censoring evangelical Christian student's speech as 'disorderly conduct'
IMAGE: Alliance Defending Freedom
Like The College Fix on Facebook / Follow us on Twitter