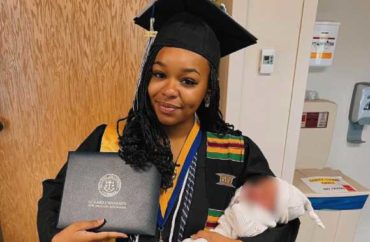 Supports are necessary to promote equality of opportunity and build a culture of life
If colleges and universities want to make campuses welcoming toward pregnant students, families and new life, and if they value the achievements and economic stability of student-parents, they must help them obtain the support they need to succeed.
Moreover, valuing pregnant women, families and young children on campus positively contributes to college diversity. It reminds childless students of the obligations they will face later and of the enormous human need beyond the campus bubble.
Pregnant and parenting students face unique challenges on campus
One in five American college students is a parent, and student-parents are ten times less likely to graduate, according to Generation Hope, a nonprofit that assists parents in high school and college.
In a report released by the nonprofit in 2020, almost half of respondents said they felt "disconnected" from the community, and 40 percent said they felt isolated.
Sixty-eight percent of student-parents live with incomes at or below the federal poverty line, according to a 2021 report from the Institute for Women's Policy Research. Student-parenting also tracks race inequalities; for example, a third of black college students are raising children, according to the report.
Roe v. Wade reversal will increase the number of pregnant and parenting students
Following the Supreme Court's Friday reversal of Roe v. Wade, "colleges should be prepared for a larger population of students who are pregnant and parenting," Bayliss Fiddiman, director of educational equity at the National Women's Law Center, told Politico.
These students face significant and unique obstacles to completing academic programs successfully, so they require the assistance of institutions and other groups to achieve equality of opportunity in education.
Title IX imposes legal requirements to help pregnant students
Schools are morally obligated to assist pregnant and parenting students to enable the vulnerable and build a culture of life. Additionally, Title IX of the Education Amendments of 1972, a federal law, makes specific accommodations mandatory and discrimination illegal.
According to a guide published by the National Women's Law Center, Title IX prohibits excluding those who "may be, are, or have been pregnant from an educational program." The guide outlines protections for pregnant women on campus and parents, including the right to any excused absences for pregnancy or childbirth and the opportunity to make up missed work for "as long as a doctor says it is necessary."
Schools are obligated to reschedule exams missed because of pregnancy or childbirth, the guide says, and the school cannot permit students or parents from joining clubs or going to events solely because of their pregnancy or parenting status.
Schools that discriminate against pregnant women by barring them from classes or activities have faced lawsuits in many states. Earlier this month, for example, a community college in Utah was required to retrain staff after a pregnant student who was encouraged to drop a class filed a federal complaint.
Some colleges and states lead the way in supporting pregnant women
Some universities, state programs, and private organizations have taken the lead in offering support for pregnant students and parents, demonstrating that institutions can help this vulnerable group and continue to thrive.
The University of Notre Dame, ranked #19 in National Universities by U.S. News & World Report "Best College" rankings, offers pregnant students the "full support of the university community," according to its Family Resource Center website. The university has a dedicated Pregnancy Support Advocate, three lactation centers on campus, and counseling to support students in their medical and career plans and offer assistance for those considering adopting.
Notre Dame also offers on-campus childcare with income-based tuition, dedicated housing for families, and other support for student-parents.
For parents attending community colleges in Virginia, the State of Virginia's ​​Office of Adolescent Health-funded Pregnancy Assistance Fund provides comprehensive resources at 22 campuses. Students are given peer mentors and assisted in enrolling in health, social, and education programs.
Financial help to pregnant students may also constitute an investment with good returns. An study by the Institute for Women's Policy Research found that by providing childcare at approximately $7,000-$8,000 to each pregnant mom in Kansas and Missouri, each state would yield up to $4.54 per dollar invested in the form of increased tax payments and reduced public assistance benefits after the mothers graduated.
Saint Louis University (ranked by Students for Life of America as among the top 10 schools for pregnant and parenting students) is among the private universities offering scholarships for expectant mothers.
The website Scholarships for Women links to dozens of government grant opportunities for pregnant students.
Here's what colleges can do
For colleges seeking to become more hospitable to pregnant women and families, ensuring that their campuses are in full compliance with Title IX is a good start. Additionally, colleges could extend existing counseling services to offer financial, psychological, physical and other resources specific to the needs of students with children. Universities with early childhood education programs — or just students who could make responsible babysitters — could provide free or low cost daycare that complements academic life.
If pregnant women and families are more visible and supported on campus, parenting would become more normalized. Students, faculty and staff could develop a deeper understanding of how academics and work could be harmoniously integrated with family life. That would be an invaluable lesson in promoting human thriving.
MORE: Grad delivers baby hour before ceremony, gets diploma at hospital
IMAGE: Jada Sayles/Twitter
Like The College Fix on Facebook / Follow us on Twitter