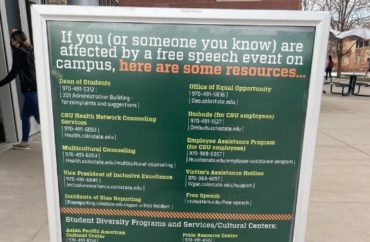 Sign lists 17 different resources
Officials at Colorado State University want students who experience free speech to know there are resources for them if they need help.
"If you (or someone you know) has been affected by a free speech event on campus, here are some resources…" a sign said (pictured). The Turning Point USA field representative for Colorado posted the photo.
The sign lists campus cultural centers such as the Black/African American Cultural Center and the Asian Pacific American Cultural Center. Students and staff can also reach out to Multicultural Counseling, the bias incident reporting team and the Victim's Assistance Hotline.
"And we haven't even had an event yet gotta love the intolerance of @coloradostateuniversity," the Rockies Territory account for TPUSA said.
George Washington University's Jonathan Turley commented on the sign and said it sends the wrong message about freedom of speech.
"Free speech is now treated like STDs and violence on campus with its own trauma-related or protective program," Professor Turley wrote. "Despite the inherent message of the harmful effects of free speech, I still prefer such a program to a policy of speech censorship or curtailment."
The problem, according to the law professor, is that some of the available "resources" encourage students "to report 'incidents of bias.'"
"It is perfectly reasonable for a university to post signs encouraging students to report incidents of racism or threats," Turley said. "However, the listing of resources to address the trauma from free speech events reinforces the view that free speech itself is a threat on campus."
CSU has a mixed record on free speech
CSU has a mixed record on free speech, at times rejecting demands for stricter monitoring of language. At other times it has encouraged, but not mandated, politically correct language and pronoun usage.
The university previously ignored a demand by activists that the school create a "hate speech" monitor. It released an "Inclusive Language Guide" in 2019 that encouraged the CSU community to avoid terms including "Cake Walk," "freshman" and "Mr. and Mrs."
The campus Pride Center recently suggested faculty use student's preferred pronouns, saying that it had been shown to help reduce suicide.
Other media outlets have said the campus is "hostile" to conservative groups.
"Colorado State University has consistently been a hostile environment for conservative organizations, particularly in the fall 2021 semester," Campus Reform said, with links to examples.
MORE: Check out the new cancel culture database
IMAGE: TPUSA Rockies/Instagram
Like The College Fix on Facebook / Follow us on Twitter