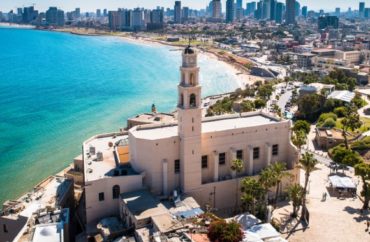 Opponents say Israel 'refuses to abide by international human rights laws and norms'
Columbia University recently announced it plans to move forward with a Global Center in Tel Aviv, despite objection from some faculty members.
"Similar to other centers, the Tel Aviv Center will be a hub and gathering place, enabling Columbia to connect with individuals and institutions, as well as with the alumni community in Israel, drawing them closer to the ongoing life of the University," the announcement stated.
It will be Columbia's 14th international center, with other notable centers being in Istanbul, Athens and Beijing.
In the weeks surrounding the announcements, a public letter written by faculty in support of the project has garnered over 200 signatures. A letter against it has received over 100 signatures, according to a copy provided to The College Fix from a professor.
"A group of faculty and students have been in conversation with the Columbia Global Centers leadership about our concerns related to opening a Global Center in Tel Aviv," Katherine Franke, a law professor who directs the Center for Gender and Sexuality Law, told The Fix via email.
She said one issue is that "Columbia has announced this new Global Center knowing that a number of our students and faculty will not be able to access this academic program/resource on account of their national origin, a clear violation of Title VI, the federal law that prohibits national origin discrimination."
"The state of Israel, through formal and informal law, policy, and practice, refuses to abide by international human rights laws and norms both domestically and in its treatment of Palestinians in the Occupied Territories," Professor Franke wrote in the opposition letter.
She concluded the letter by saying that the university failed to follow the principles of faculty governance in its decision to establish the center and that she has "substantial concern about the power of donor money" in the decision-making process surrounding the initiative.
Several supporters of the center spoke to The Fix about why this will benefit the university.
"Just as there are courses about Russian or Chinese national security, or about the Arab countries, it is entirely legitimate that there be courses about Israel and that there be a Columbia Global Center in Israel," political science professor Chuck Freilich told The Fix via email.
Professor Steven Cohen, who teaches public affairs, shared similar sentiments. "Seeing people and institutions first hand, understanding the diversity of views and experiences in each nation, and connecting to scholars and practitioners who share our interests," are some of the benefits, Cohen wrote in his email to The Fix.
The Fix reached out twice via Facebook messaging to the campus Students for Justice in Palestine group for comment on the situation. The group did not respond to inquiries sent in the past month.
Pro-Israel groups herald the new initiative
Outside organizations also commented on the move by Columbia to continue connections with Israel.
Roz Rothstein, the CEO of pro-Israel group StandWithUs, told The Fix via email that she believed the pushback against the project would be detrimental to Columbia.
"Cooperation along these lines can inspire vital tech innovations and increase our understanding of the world," Rothstein said in a media statement. "It is deeply immoral to try to shut down projects that can make life better for people across the globe, simply because Israelis are involved."
"The only thing achieved by academic boycott campaigns is to deepen divisions and expose how destructive the anti-Israel movement really is," Rothstein said.
The current disputes come after multiple years of disagreements between faculty, administration, and students about Colombia's relations with Israel.
The Fix reported on a petition that was signed by forty Columbia University faculty in 2016 that called on the University to divest from "corporations that supply, perpetuate, and profit from a system that has subjugated the Palestinian people."
Tensions continued in 2019 when the Columbia College Student Council narrowly voted against a referendum to gauge student support for the Boycott, Divestment and Sanctions movement, a movement which according to its website is trying to "end international support for Israel's oppression of Palestinians and pressure Israel to comply with international law."
In 2021, a similar resolution was passed and the results found that 61 percent of students were in favor of divestment from "stocks, funds, and endowment from companies that profit from or engage in the State of Israel's acts towards Palestinians," but the university maintained its position and investments The Fix reported.
President Lee Bollinger said that the university would not divest as "to do so would contradict a long-held understanding that the University should not change its investment policies on the basis of particular views about a complex policy issue."
MORE: Academics want U. Chicago to silence critics of pro-Israel classes
IMAGE: Ruslan Paul/Shutterstock
Like The College Fix on Facebook / Follow us on Twitter