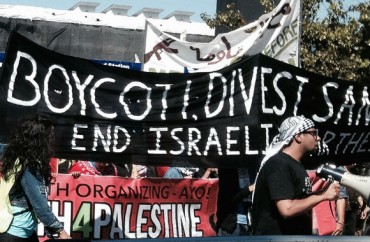 Forty Columbia University faculty have signed a petition calling for the school to "divest from corporations that supply, perpetuate, and profit from a system that has subjugated the Palestinian people."
The faculty joined the various student groups associated with Columbia University Apartheid Divest, and the petition comes about on the first day of Columbia's ridiculously named "Israeli Apartheid Week."
Last month, CUAD had demanded that the university divest from "eight specific corporations 'that profit from the State of Israel's ongoing system of settler colonialism, military occupation, and apartheid law.'"
The Columbia Daily Spectator reports:
"As both scholars and community members, we are professionally, intellectually, and morally invested in our University. We deem it our duty to hold our institution accountable for the ethical implications of its own actions, notably its financial investments and their implications around the world," the petition said. "In particular, we take issue with our financial involvements in institutions associated with the State of Israel's military occupation of Palestinian lands, continued violations of Palestinian human rights, systematic destruction of life and property, inhumane segregation and systemic forms of discrimination."
RELATED: Anti-Israel resolution drawn up by antiwar historians for annual convention next month
In 2002, a group of 74 faculty members drafted a similar petition, calling on the University to divest from companies that manufacture and sell military hardware to Israel. As a policy, the University does not comment on specific holdings in its endowment portfolio.

The list of signatories includes several department chairs and prominent faculty members.

Anthropology and Middle Eastern, South Asian, and African studies professor Partha Chatterjee, who signed the petition, said in an email that he wanted to protest Israel's security regime, which "virtually amounts to apartheid."

"I fully support every effort to put pressure on the Israeli government to end its illegal occupation of Palestinian lands," he said.
Why, Professor Chatterjee (among others), do you single out Israel for such scrutiny? Why are so many facts of the long history of the Israeli-Palestinian conflict perpetually ignored? Where are the calls for divestment from companies associated with China? Saudi Arabia? Egypt? Vietnam? India? All of those countries have been roundly criticized for various human rights violations.
Consider the words of Miriam F. Elman, associate professor of political science at Syracuse University's Maxwell School of Citizenship and Public Affairs, who spoke about the BDS – Boycott, Divest, Sanction – movement back on Jan. 7 in Rochester, New York.
As reported in an article at American Thinker, she noted that "anti-Semitism 'crosses the line' surpassing the merely uncivil to constitute an assault on Jewish identity. We see it when historical and cultural links between Jews and Israel are refuted and when Israel is singled out for scrutiny like no other nation on earth."
"In the Middle Ages," Elman said, "Jews were hated for their religion, in the 19th and 20th centuries they were hated for their race and today they are hated for their nation-state."
Read the full Spectator article.
RELATED: Academic association votes 1,040-136 in favor of anti-Israel BDS resolution
RELATED: Israeli academic silenced by antiwar, pro-Palestine campus activists for promoting 'war crimes'
Like The College Fix on Facebook / Follow us on Twitter
IMAGE: Alex Chis/Flickr