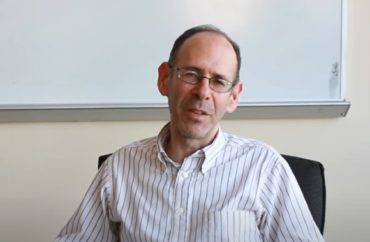 Computer science professor will continue to make projections
One takeaway from the past year is that many people who think they can model coronavirus infections and deaths often cannot.
There's the Cornell professor who predicted 1,200 cases at the Ivy League university, but wound up off by 66%, since the total amount through December 31 came out closer to 400.
Now meet Sheldon Jacobson, a computer science professor at the University of Illinois at Urbana-Champaign. In June, he predicted up to seven college football players would die from COVID.
"I guarantee someone is going to die," Jacobson said in June, according to CBS Sports. "The virus does not discriminate." But no one died during the college football season that ended earlier this week.
Jacobson is not an epidemiologist by training. His own website highlights his background in engineering and mathematics. A media list does say that he has expertise in infection trend analysis, however. He also has an appointment as a professor in the university's medical school.
Even in August, after revising his model, Jacobson still projected at least one to two deaths.
"After initially predicting 3-7 deaths in college football from the coronavirus, Jacobson's data now shows an average of less than two deaths among the FBS's 13,000 players," CBS reported. Still wrong.
MORE: Coronavirus researchers delete tweet that appeared to question modeling
In August, Jacobson began to walk back some of predictions, after seeing the data on infection rates among athletes. "Jacobson's critique [is that] the Big Ten may be taking opportunities away from student-athletes before it was necessary," the Indy Star reported in August.
The dire predictions from people such as Jacobson lead to confusion and turmoil as football seasons started late, if they started at all.
"But, for some programs, it was too late," sports website Outkick said in a recent article. "The death fear had been implanted in brains, and the Pac-12 had made up its mind not to play. The Pac-12 reconsidered only when the Big Ten changed its mind due to public pressure."
"After the initial article in June, with the data available at that time, I continued to research the topic with better, more reliable data," Jacobson explained in an email to The College Fix. "At the end of the day, before the college football season started, I fully supported college football starting and all other college sports."
"All these other reports got little media attention though.  That is the position I have held for several months now, and continue to advocate for," the professor said.
Jacobson continues to make predictions. In December, he began to warn about possible coronavirus deaths about college basketball coaches, though he did not urge a cancellation of the season.
Jacobson said, in an opinion piece for the Star:
Among the 65 Power Five conference men's teams, nine coaches are 65 or older, and 34 are between 50 and 64. Overall, the case-fatality rate for all 65 of these coaches is 1 in 48.

This means that if 48 of these coaches become infected and display symptoms, the chance of one fatality is real. By comparison, the case-fatality rate for the players is 1 in 1,800, which means that the individual fatality risk to the players is negligible, though with enough symptomatic infections, the population risk is quantifiable.
Every analysis is not wrong. It's even possible that Jacobson will be right that one basketball coach could die from coronavirus.
But now approaching a year of coronavirus lockdowns, justified by public health experts and data scientists, it's important to hold people accountable for their predictions.
The "scientific consensus" can be wrong, and good policymakers should be willing to acknowledge that.
MORE: Student newspaper deletes study that found COVID had minimal effect on overall deaths
IMAGE: ORiginals Research/YouTube
Like The College Fix on Facebook / Follow us on Twitter