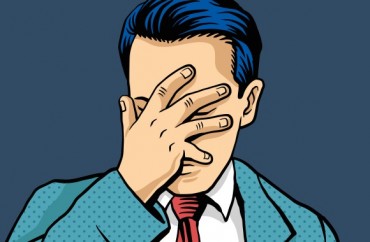 Kiss your sleeping boyfriend, get expelled 
A surefire way to get your legislation in front of a judge is write it so poorly no one can figure out what it means.
Connecticut's slapdash attempt to protect college students from responsibility for their drunken hookups looks like chum in the water for a legal feeding frenzy, as analyzed by the Foundation for Individual Rights in Education.
The state's new affirmative-consent law, mirroring those in California and New York that govern how college students can have sex, not only shifts the burden of proof to students accused of sexual assault, says FIRE's legal and legislative policy advocate, Shelby Emmett:
HB 5376 states that "affirmative consent may be revoked at any time during the sexual activity by any person engaged in the sexual activity." The bill goes on to say that "it is the responsibility of each person to ensure that he or she has the affirmative consent of all persons engaged in the sexual activity to engage in the sexual activity and that the affirmative consent is sustained throughout the sexual activity."

MORE: Say yes every 10 minutes or it's rape, high schoolers taught

What exactly constitutes sexual activity? Does a lingering hug count? What about kissing someone on the cheek or lips? While some might scoff at this question, the fact that the bill defines nine different terms, and that sexual activity is not among them, suggests that this question is one the authors of the bill found it convenient to avoid.
Emmett notes that 10th graders at one California high school were taught to ask for consent every 10 minutes during a sex act, to be sure that their partners are still into it, but who's to say that's a valid interpretation?
Perhaps it's each time the sexual activity "escalates," as California would have it. What, then, if the activity de-escalates and then re-escalates? And doesn't what constitutes as escalation vary from person to person?
MORE: 'Yes means yes' baffles NYU students 
As Emmett demonstrated last fall when she interviewed New York University students on the so-called "yes means yes" standard, students are all over the map on how to satisfy this better-in-theory standard.
Here are the consequences in real life (IRL, as the kids say) when an accused student can't point to a pre-existing sexual relationship as evidence of consent (h/t Hans Bader):
[U]nder HB 5376,  a young woman in a committed relationship who wakes her sleeping boyfriend with a kiss, for example, may now be guilty of sexual misconduct because she could be prohibited from using the existence of that relationship as evidence of consent. (If this fact pattern sounds extreme, just look at the facts of the case in Doe v. Brandeis University.) She would also be in violation of the affirmative consent standard because she could not prove she obtained consent in advance.
Connecticut college students, if you want to get revenge on an ex or a person who spurned your advances with zero chance you'll be punished, HB 5376 is the perfect vehicle.
Read the law and the FIRE post.
MORE: Judge upholds due-process suit by gay student against Brandeis
Like The College Fix on Facebook / Follow us on Twitter
IMAGE: Shutterstock