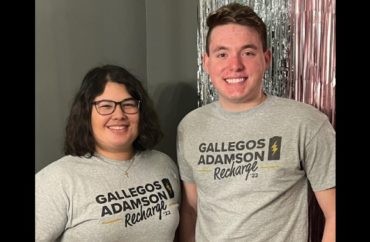 UPDATED
Olivia Gallegos previously fought the student government after it denied her TPUSA club full recognition
A conservative student at Wichita State University will now oversee the same student government that once tried to stop her Turning Point USA chapter.
The conservative organization's chapter president Olivia Gallegos won the election on April 6 for Student Government Association president after beating two write-in candidates. She ran with Mitchell Adamson (both pictured on right) as her vice president.
Gallegos previously served as a student senator and had to take on her peers after they blocked her request for full recognition for her group. The student government's judicial branch eventually reversed the denial.
She did not respond to two emails from The College Fix that asked for comment on her candidacy and priorities.
The newly elected president previously told The Fix she would encourage students facing political pressure not to back down.
"Don't back down because it's what the other people want. Just don't," she said, when asked about a controversy involving her support for Morgan Zegers, the founder of Young Americans Against Socialism.
Gallegos said at a candidates' debate that she wants the SGA to become less "politicized," according to the campus newspaper.
"In recent years it has become a very politicized organization and it doesn't need to be that way," Gallegos said, according to The Sunflower. "We want to be able to make sure that things are not so political and not so hostile to any student group."
The campus newspaper previously reported that her platform focused on "transparency, mental health, financial literacy and safety."
Student senator said TPUSA would make students unsafe
Student senator Victoria Owens opposed Turning Point USA because she said it could affect "the safety of our constituents."
"It should absolutely be a priority that all students feel safe," Owens said at the October 2021 meeting where she and others rejected the TPUSA club application. "I do understand that promoting groups to have a voice is incredibly important, however you can not have a voice if you are unsafe."
The Fix asked Owens, prior to the election, if she would be able to work through past differences with Gallegos, but she did not respond.
However, Owens lost her election last week.
The College Fix also reached out to Turning Point USA's national media team for comment, but it did not respond to two emails in the past several weeks.
MORE: Two professors threaten peer for advising TPUSA group
IMAGE: Gallegos Adamson/Instagram
Like The College Fix on Facebook / Follow us on Twitter