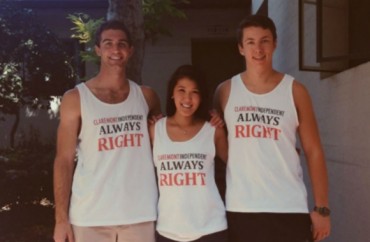 Claremont Independent also called 'racist, ignorant,' writers labeled 'idiotic, white supremacists' on social media 
The Claremont Independent campus newspaper and its student journalists were attacked by peers on social media this week after posting pictures of some of its contributors donning tank tops declaring: "Claremont Independent: Always Right."
In Facebook posts, the writers' peers called them "idiotic" and "ignorant," among other names, and as the online insults continued to pile up, some the publication's op-eds were called "racist, sexist, classist" and more. The writers were also labeled "white supremacists."
The Claremont Independent is a monthly student publication at Claremont Colleges, a consortium of five private undergraduate liberal arts colleges in Southern California that, between the five schools, enrolls about 5,700 students. The Independent's editors also maintain an active news website.
The flurry of Facebook comments were made on students' profiles as well as the paper's Facebook page throughout this week.
The online bullying began after one of its writers posted a picture of contributors donning the "Always Right" tank tops on Facebook,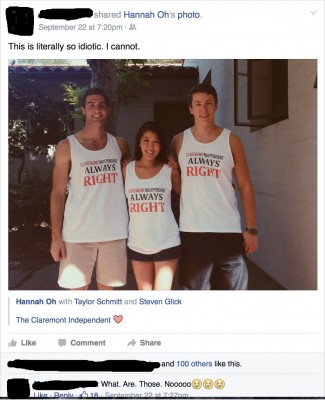 which one student shared, saying: "This is literally so idiotic. I cannot." Another added: "What are those? Nooooo" followed by three crying face icons. One-hundred others "Liked" the rude comments, according to screenshots of the exchange obtained by The College Fix.
"Literally everything about it is a joke and honestly I wish I could shut them down but they would be so quick to spit their 'constitutional rights,' rights that only work for some," one student stated.
Additional comments included accusations that the Independent's writings make some students "emotionally ill" and are "insensitive."
In response, Claremont Independent editor Hannah Oh clarified: "Even if you disagree with our views, I'd hope you'd be willing to at least engage with us and offer constructive criticism. … Also, our staff has a diversity of opinions, so I'd hope you'd be willing to understand our nuanced views before making any broad assumptions about what we believe in as a group."
Oh went on to write that many of its contributors are moderate, some even libertarian, and several have classical liberal leanings. But the response did not sit well with her peers on Facebook, and prompted even more attacks.
"I think that it is ridiculous to have a shirt that says 'Always Right' when many people don't agree with the views published in your publication which have also been very hurtful, racist, classist, sexist, etc.," was one of the responses. "Being racist is not offering constructive criticism."
Another student added: "If you are trying to convey everything your comments say about how open you are to discourse you need to burn those shirts, or never wear them again because they go against the claims about how your organization wants to interact with other political groups. And even if they are a joke, they make you a joke, which you probably didn't intend."
A third student argued "the Claremont Independent has made racist and white supremacist comments in its articles and the tanks outright support that … "
In another exchange, editor Steven Glick posted a picture of himself wearing the tank top with the caption "150 years ago, the Republican Party abolished sleevery. We continue to support the right to bare arms. Pick up your Claremont Independent tank top and exercise your freedom today!"
The play on words prompted one student to suggest the post was "extremely offensive and violent" and "trivialized slavery."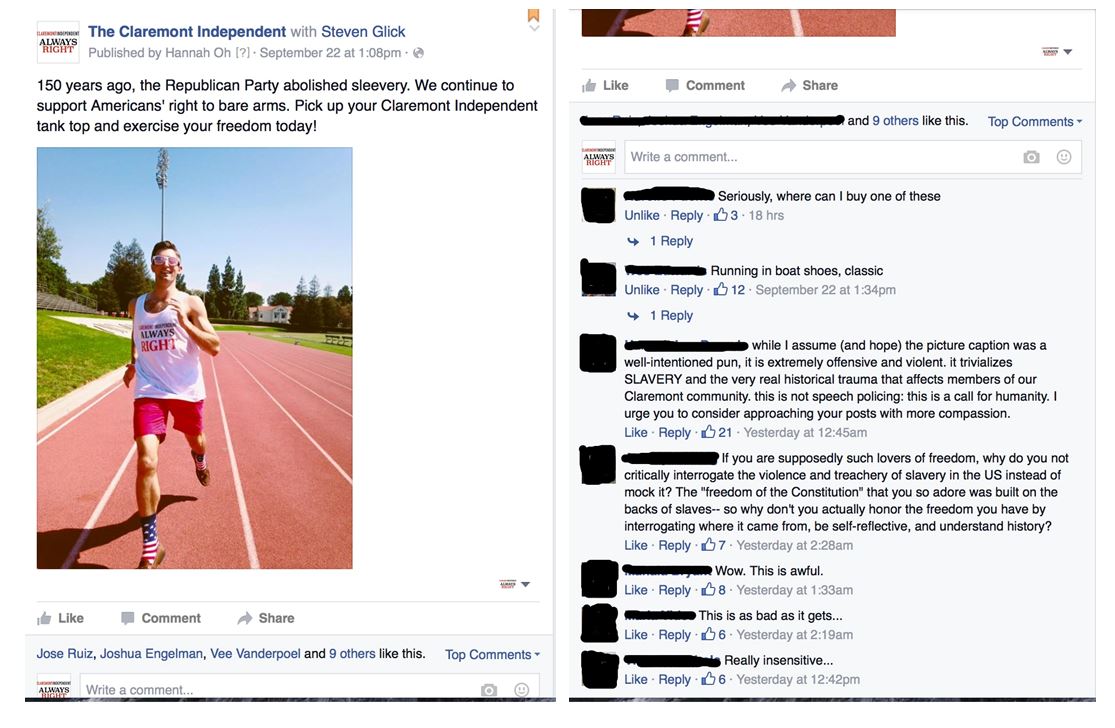 In another thread, many comments also targeted a column the Independent published earlier this month critical of the Black Lives Matter movement headlined "Black Lives Matter: A Downward Spiral." They cited it as an example of racism.
Comments included "this is so f*cking insensitive" and "BLM-shaming." Another posted a picture of a white peacock attacking a turquoise peacock, and still another student said: "Literally every paragraph has some type of microaggression!" Another argued that "comparing a protester to a toddler because they were enraged over what is damn near genocide is purely insulting."
Another student stated: "The Claremont White Supremacists at it again, #TheClaremontIndependent, but are we surprised?"
But some students are on the side of the Independent as well.
On Wednesday, Claremont Independent editor Steven Glick ate dinner on campus when a peer came up to him and accused the "Always Right" tank tops of promoting sexism and racism.
"When she left, she said I was a bigot," Glick explained on his Facebook page. "After she left, our staff gained three new writers and sold some tanks. It's people like her that keep us relevant."
More than 100 people liked Glick's post, chiming in with comments such as "haterz gonna hate" and "sometimes pissing people off is the surest sign that you're doing something right."
This is not the first time the Claremont Independent has come under fire. Last year copies of the publication with a GOP elephant on the cover were ripped up.
Like The College Fix on Facebook / Follow us on Twitter