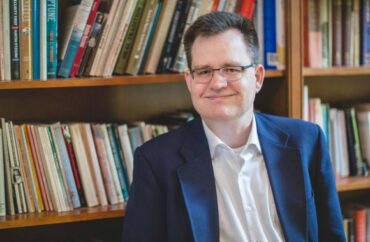 UPDATED
Yale Law has been 'lacking in right-of-center public law faculty for decades,' politics professor said
A Princeton politics professor is moving to Yale Law School, where he will teach and direct a new center focused on academic freedom.
Professor Keith Whittington told The College Fix via email that the new academic freedom center at Yale should open by fall 2024, and it will likely host public programs and conferences and workshops for scholars, administrators, and policymakers.
"We are in some very challenging times for academic freedom," Whittington (pictured) said. "I think we can build something that will be a leading national resource, and I look forward to working with colleagues across the Yale campus and across the country to make the most of this opportunity."
Whittington joined the Princeton University faculty in 1997. He published the book "Speak Freely: Why Universities Must Defend Free Speech" with Princeton University Press in 2018.
Princeton University President Christopher Eisgruber selected the book as the "pre-read" for the Class of 2022, the university communications department reported at the time. The "pre-read" is a university tradition in which incoming freshmen read a selected book and discuss it during orientation.
Whittington told The Fix that he expects to do "some teaching" on the First Amendment and academic freedom while at Yale Law.
"I am sure there will be points of disagreement and controversy, but I would expect Yale to be fully supportive of my activities there," Whittington told The Fix. "Thus far, I've received nothing but encouragement and well-wishes from the campus community in New Haven, and I'm optimistic that I'll be able to navigate controversies that might arise on campus."
In an Oct.16 article for The Volokh Conspiracy, a blog for Reason, Whittington wrote Yale Law School has been "lacking in right-of-center public law faculty for decades" and experienced "its own recent controversies regarding free speech and ideological diversity."
In March of last year, a rowdy group of protesters at Yale Law School disrupted a bipartisan panel on civil liberties because it featured a conservative speaker, The Fix reported at the time.
The March 10 protest targeted a Federalist Society event that featured two speakers, one from the left and a voice from the right; but panelist and Alliance Defending Freedom conservative attorney Kristen Waggoner allegedly put queer students "at risk of harm" by her presence and words, protesters said, according to The Fix. 
As a result of Yale Law School's poor culture of free speech, U.S. Court of Appeals for the Fifth Circuit Judge James Ho said in Sept. 2022 that he would no longer hire clerks from the school, The Fix reported.
"Yale not only tolerates the cancellation of views — it actively practices it," the federal judge said.
"Starting today, I will no longer hire law clerks from Yale Law School. And I hope that other judges will join me as well," Ho, an appointee of President Donald Trump, said.
In response to such events, Whittington told The Fix that "hopefully [he] can contribute to building a campus environment committed to free inquiry and civil discourse and can build bridges that can withstand the storms of passion that will undoubtedly arise now and again."
MORE: Top conservative attorney returns to Yale Law School
IMAGE: Princeton University
Like The College Fix on Facebook / Follow us on Twitter