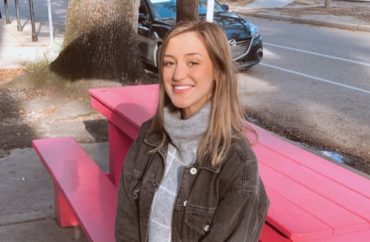 After her sorority at Louisiana State University kicked her out, Emily Hines says the school ignored her request for the incident to be investigated for possible bias.
Alpha Phi, a Greek Life organization independent of LSU, revoked Hines' membership in April over her TikTok video that criticized Assistant Secretary for Health Rachel Levine for her transgender identity. The seven-second video featured the Bee Gees' song "More Than a Woman."
Despite being told that the organization does not side with political views," Hines told The College Fix she believes the decision was politically motivated.
"I think they chose to remove me because my beliefs go against modern society and it would look bad on them. Sororities are all about outward appearance and I know first hand that Alpha Phi is no exception," Hines said.
"They're a private organization so they can have their own set of rules, but they don't apply to everyone, which is a major fault in their organization as a whole," she said.
"As a conservative, even though I may not agree with decisions you make or words you say, I'll defend your Constitutional right to do and say those things; that was clearly not the case for them."
Hines reported the incident with LSU's bias reporting system in April but says LSU has effectively ignored the request as she has not received a response as of late July.
"LSU has remained silent," Hines said, noting how her story made national headlines in April. Her university has not, in the months since, defended her free speech or criticized the discrimination and bias she faced.
Hines said she filed her complaint based on the discrimination she faced regarding her religious beliefs.
"LSU has a freedom of speech and expression policy and it applies to all campus locations. I, along with other conservatives on campus, feel it's become an unsafe space for certain views and beliefs," Hines told The Fix.
"Because Alpha Phi is a private organization, I'm not sure if they'd be excluded from this. And I'm not saying LSU is responsible, but they should know what their campus organizations are doing and how they're treating members."
"… A response wasn't necessary but would've been more professional than just silence."
LSU's Bias and Discrimination Incident Report system encourages student to file a report whenever they experience "conduct that discriminates, stereotypes, marginalizes, excludes, harasses or harms anyone in our community based on their identity," also noting that the "elimination of discrimination on our campus begins with reporting."
Director of Media Relations at LSU Ernie Ballard confirmed the school's receipt of Hines' report to The College Fix, however, and explained that bias reporting at the school had recently transitioned to the Office of Civil Rights and Title IX.
Ballard replied to recent questions from The Fix that both Media Relations and the Office of Student Advocacy and Accountability had reached out to the Office of Civil Rights and Title IX directly as a result of The Fix's questions and would follow up with Hines' report at a later date.
"It's insane that you were able to get a hold and on contact with them but I haven't been," Hines told The College Fix.
In 2018, LSU investigated a bias incident in which the student newspaper The Reveille published a column referring to sorority students as "cattle."
MORE: University investigates bias within its bias reporting system — & finds bias
IMAGE: courtesy photo
Like The College Fix on Facebook / Follow us on Twitter