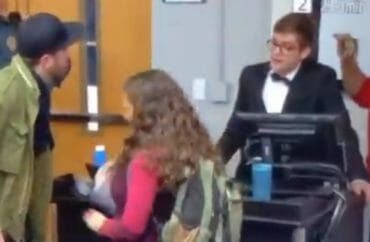 A chaotic scene erupted Tuesday night at the University of Connecticut after students shouted down a conservative speaker invited to campus to give a talk titled "It is OK to Be White."
The event ended after the speaker, Lucian Wintrich, was arrested and escorted out of the auditorium.
Video from the event, organized by the public university's College Republicans, shows Wintrich, a White House correspondent for the conservative website The Gateway Pundit, attempting to give his speech as audience members heckled him.
"Go home Nazis," students can be heard chanting at Wintrich as he attempted to give his address. A number of audience members later walked out of the event.
The Daily Campus, UConn's student newspaper, reports other chants included "black lives matter" and "fuck you" as the conservative speaker "discussed how he disliked the negativity society puts on [Donald] Trump supporters and white men in general."
Lucian Wintrrich speaking at #UCONN. Lots of angry protestors in crowd. https://t.co/xmadzIKZBM

— Kevin Galliford (@KallMeKG) November 29, 2017
Fox News reports that a physical altercation later broke out in the auditorium, leading to Wintrich's arrest.
From the Fox News report:
Videos posted online show two audience members approaching Wintrich's podium. A woman appears to grab a piece of paper from the podium and then start to leave. Wintrich is then seen following her up an aisle and grabbing her from behind, apparently trying to retrieve the paper.

A commotion then ensues, involving Wintrich and numerous audience members. Campus police then quickly step in and take Wintrich to a nearby restroom.

According to the Chicago Tribune, windows in the area were shattered and UConn police were investigating a smoke bomb that was set off outside the lecture hall.
Wintrich was charged with breach of peace, according to The Daily Campus. The student newspaper also reports that "police blocked off students attempting to bombard the car" Wintrich entered as he left campus.
One student was arrested during the event, according to a campus spokeswoman, who said that law enforcement is investigating the smoke bomb incident.
Wintrich addressed the events on Twitter, saying he was disappointed that protesters interrupted the event.
"It's really unfortunate that some of the kids at @UConn felt the need to be violent and disruptive during a speech that focused on how the leftist media is turning Americans against each other. Tonight proved my point," he said.
Wintrich also posted a photo of his mugshot, and said he'd be posting his full speech on The Gateway Pundit's website.
Well… maybe this made it all worth it… here is my actual mug shot from tonight: pic.twitter.com/SzSrw4GsgJ

— Lucian B. Wintrich (@lucianwintrich) November 29, 2017
Meanwhile, UConn President Susan Herbst chastised both Wintrich and the agitators.
"We live in a tense and angry time of deep political division. Our hope as educators is that creative leadership and intellectual energy can be an antidote to that sickness, especially on university campuses. Between the offensive remarks by the speaker who also appeared to aggressively grab an audience member and the reckless vandalism that followed, that was certainly not the case on our campus tonight. We are better than this," Herbst said.
According to the UConn College Republicans, Wintrich's appearance on campus drew backlash before Tuesday night's event. A Facebook post from the group mentioned that flyers promoting the talk were taken down by other UConn students.
Read The Daily Campus report and the Fox News article.
MORE: 'It's okay to be white' signs spark outrage on campuses
Like The College Fix on Facebook / Follow us on Twitter