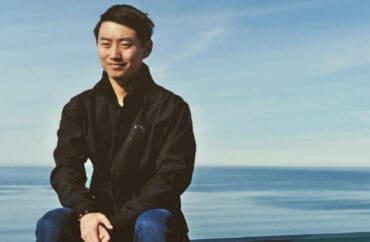 Gregory Lu says he's not super active on UCSD Memes for Sleep Deprived Tritons, a very popular student-run Facebook group where silly pictures and jokes about campus life reign supreme. Think horrible parking options, crazy midterm antics, and odes to college life.
Lu, a UC San Diego student and well-known as a conservative on campus, says his time as a member of the 1-year-old group has been spent mostly checking out memes, tagging some friends, and posting an occasional meme himself. But once in a while, when he does chime in in the comments section, all hell seems to break loose.
In November, he was booted from the page after defending conservatives. Later he was let back on. But a few days ago he was booted again, this time for mocking pro-gun rights darling David Hogg.
He said he feels discriminated against, that moderators of the page have made left-leaning political comments and posts without punishment.
While the Facebook page is student-created and student-moderated and not affiliated in any way with the college, the situation illustrates that the left-leaning student moderators controlling the page either don't like free speech, don't like having their opinions challenged, or both.
The drama with Lu all started when someone made a meme and posted it on Sleep Deprived Tritons last November making fun of another UCSD Facebook group called UCSD Political/General Discussion. The meme had all the signs of the horoscope with cancer's sign replaced with the group's name. Under the post, people began commenting that right-wingers are racist, Lu told The College Fix.
Lu, a member of the College Republicans, responded back, defending conservatives, he said. After that, he was promptly removed from Sleep Deprived Tritons.
"Hey bud, can I get an explanation for why I was banned," Lu asked the main moderator in a Facebook message.
"No," was the reply, according to a screenshot of the discussion provided to The College Fix. Lu quipped back "that sounds very authoritarian of you." Later, Lu was allowed back in "only because my friend vouched for me," he told The Fix.
Lu remained active on campus as a conservative. In December, he hung 150 posters of Kate Steinle's smiling face with the words "She had dreams too" in highly traversed areas across campus such as bulletin boards and the free speech area, a move that didn't go over too well with the campus community. A day after Lu hung the posters, all of them had been taken down.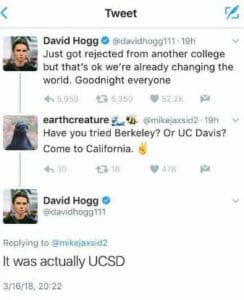 Fast-forward to this month. David Hogg, a survivor of the recent mass shooting massacre at a high school in Parkland, Florida, has become the viral fresh-faced advocate against the NRA and gun-rights groups. Hogg tweeted that he got rejected from another college but "that's ok we're already changing the world." Asked about it, Hogg replied he was rejected from UCSD.
That exchange landed on UCSD Memes for Sleep Deprived Tritons, eliciting much sympathy from students but a hearty "LOL" from Lu. There were some other comments that echoed a mocking tone against Hogg, prompting one moderator to suggest the thread was filled with "hella salty pro-gun people."
Lu chimed in: "Why would I be salty that he didn't get into UCSD?"
He was soon banned again. It means he can't access the page anymore. Asked why, Lu was trolled by a moderator.
"I'm sorry lad," came the reply. "But we have one rule. If your name starts with G and your last name starts with L we can't add you back to the page."
Lu said that moderators of the page have at times made left-leaning political comments and posts without punishment, so there is a certain level of hypocrisy going on. While the page creator and

moderators are free to ban whoever they like, it's telling they've booted one of the most vocal conservatives on campus.
"How it is ok that a mod on the page can make a comment disparaging people of a specific political belief and then also post images with political opinions and be completely fine, while I'm the one that gets banned," Lu said to The Fix. "If someone else is the one to break the 'rules,' especially a mod, and make comments regarding politics, why is it fair that I'm the one that gets banned?"
Getting banned from the meme page can be something of a bummer. With nearly 27,000 members it's considered one of the hottest UCSD Facebook pages to see and be seen in.
But in the end Lu, is taking the matter in stride. He mocked being kicked off the page in a Facebook post among friends.
MORE: White, male student under fire for defending diversity of thought: 'punchable, drag him, expel him'
Like The College Fix on Facebook / Follow us on Twitter