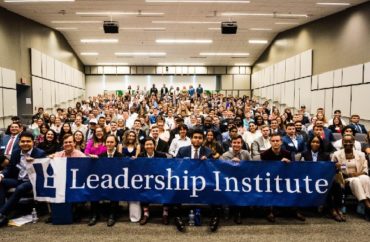 'Boot camp of politics' preps young leaders on how to make a difference
The Leadership Institute, a conservative activist group, recently surpassed 250,000 graduates of its youth training program.
LI's National Youth Leadership School is a two-day "boot camp of politics" that helps train students and other young adults on how to be activists for causes such as gun rights, free speech and fiscal conservatism.
The most recent class consisted of 283 attendees, the largest ever group of National Youth Leadership students in one session. The institute hosted the training during the 4th of July weekend.
It brings in students from all over the country, and even internationally.
Erica Rodriguez, president of the Turning Point USA chapter at the University of New Mexico, told The College Fix that she came into the training "wanting to help grow [her] chapter and just make more connections."
She said she also wanted to learn "how to have a better presence on my campus and learn how to lead well from within with the people I have already established as chapter members."
One main objective of the leadership training is to maximize the efforts of individuals within their activist groups, so an important issue for Rodriguez as a young conservative activist is "just getting people to talk because [she knows] everyone comes from a very hostile campus and all of us are a little bit afraid."
"For the upcoming school year, my school actually tried to not have us have a Turning Point USA chapter," Alyvia Brough, a NYLS graduate and college student from Ohio, told The Fix.
She continued, "there were rumors going around saying that we were a bad group." Although Brough said she is "trying to implant something on [her] campus like that," she has been met with opposition both by other students and by administration.
Graduates of the leadership program go on to run campaigns, influence voters, and sometimes even run for office themselves.
Brough said her "big dream as an education major is one day going into the board of education somewhere to help stop CRT in schools and different types of indoctrination like sexualizing young kids with transgender and drag queen story hour."
She called the sexualization of kids and drag queen events aimed at children "atrocious."
MORE: Teenage college student aims to flip blue seat
When asked about what the most important issues are today as a young conservative activist, Brough said the pro-life movement is the most important to her, that "life begins at conception and we need to treat it like that."
Brough said it would be her dream to kickstart a TPUSA chapter, but she is also "helping her father, Ron Brough, with his Ohio State House election of the 19th district."
The campaign is focused on reducing the double taxation of residents who live in one town and work in another.
"My expectations were just to learn how to run a campaign … dipping my foot in the political waters," she told The Fix. "Young people are such an untapped form of political activism."
Many students came into the training excited to hear from a particular speaker – Brough said the speaker she most looked forward to hearing from was "David Blair, the youth coordinator for Donald Trump's campaign."
"He had so much wisdom and so much to say about security and intelligence and how to run the campaign."
Brough said she feels strongly about getting new candidates into office and is passionate about helping them in their campaign efforts.
"This is a call to action," she told The Fix. "If you know someone that is trying to go for political office and they align with your ideals, perfect. Help them. Be their mentor."
Numerous students at the National Youth Leadership School came on scholarships and wouldn't otherwise be able to afford it. This makes for many thankful students, including Rodriguez, who said she is "just super grateful for this trip and for getting offered to join."
MORE: Pro-Israel group will train 100 students this summer at national conference
Editor's note: The reporter for this article attended NYLS.
IMAGE: Leadership Institute
Like The College Fix on Facebook / Follow us on Twitter