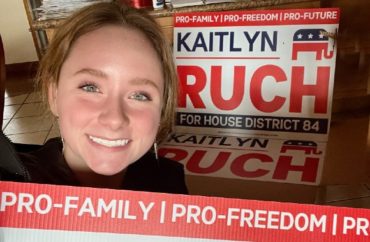 'My parents always taught me that if I saw a problem, I could sit around and complain about it, or take a stand and do something about it,' the candidate told The Fix
An incoming freshman at Carroll College is focused on more than just her first semester this summer – she's also working to get elected in November.
Kaitlyn Ruch is running for House District 84 in Montana while preparing to start school in the fall semester at the Catholic college in Helena. Ruch defeated two other Republicans in the primary.
She recently spoke to The College Fix about her campaign and what inspired her to run for office. She is running in a district that has voted Democrat for the past several election cycles.
"My parents always taught me that if I saw a problem, I could sit around and complain about it, or take a stand and do something about it," she told The Fix via email on July 6. "I decided to run for State Representative because I have continually seen problems in our state that are not being fixed, and some elected Representatives who don't truly don't do the job of representing the people that they are elected to represent."
A key issue for Ruch, a Catholic and adoptee, is ending abortion. The 18-year-old is also active with Students for Life Action, the political advocacy branch of Students for Life of America. Ruch served as the president of Helena Students for Life and as the state captain for SFL Action.
"I am opposed to abortion because every single abortion ends an innocent human life. At the moment of conception, a new human life is created," she stated in her email. "This is an undeniable, biological fact. A new human person with a completely unique set of DNA that has never existed before, and will never exist again."
MORE: University of Minnesota socialist group leads pro-abortion protests
"I am a firm believer that the circumstances of your conception or your birth do not determine the value of your life, and that every human being deserves the basic human right to life," she added.
"In light of Roe v. Wade being overturned, I am hopeful that we can pass legislation that will protect innocent human life from the moment of conception," she told The Fix. "I hope to see this legislation go into effect all around the country, especially here in the state of Montana where there are currently limited regulations on abortion."
Besides abortion, she is focused on other conservative priorities. She listed education, "reducing the size and scope of government" and the Second Amendment as top on her list, along with stopping the "drug and crime epidemic."
The legislative session begins in January 2023, so if elected, she will "make adjustments to my schedule/course load to allow myself to serve," she told The Fix.
The Fix reached out to SFL Action on its endorsement and involvement in Ruch's campaign.
Media representative Dana Stancavage explained that the organization's "grassroot efforts at Students for Life Action focuses on raising up the next generation of pro-life leaders equipped to pave the path in a post-Roe America" and that it is "proud to partner with upcoming pro-life leaders!"
"SFLAction and its state-affiliated PAC in Montana engaged in Ruch's race and reached 1,448 voters through door knocking, 1,264 through text campaigns, and 1,376 over the phone in Montana," Stancavage told The Fix. "I'm not sure of our plans for the fall yet, however, I believe we will continue working in support of Ruch's campaign."
Ruch is not the only one helped by the pro-life organization.
"SFLAction has been proactively raising up the next generation of leaders, equipping them with the knowledge and political prowess they need to succeed through Political Leadership Workshops," Stancavage stated in the email. "The workshops teach students about the true nature of politics, what it takes to achieve real policy change, how to effectively lead activism groups, how to pick a good political fight, and so much more," she told The Fix.
MORE: CUNY launches center to train students in 'social justice' activism
IMAGE: Kaitlyn Ruch
Like The College Fix on Facebook / Follow us on Twitter