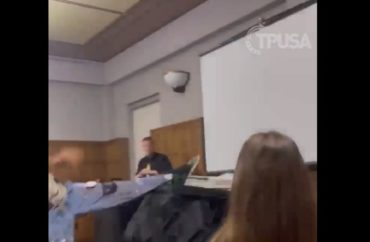 'We are not fascists, we are your classmates'
Conservative student groups at the University of Iowa have faced several instances of harassment since the start of the fall 2022 semester.
Student leaders of TPUSA, College Republicans and additional center-right students at the school have in recent weeks connected to discuss how they are increasingly frustrated by the attacks and the lack of institutional support from campus leaders.
Most recently, at a Turning Point USA event featuring Benny Johnson on Sept. 20, a student called the topic "racist ass sh*t," and screamed "f*ck you" after he kicked the table at the front of the room that held the projector, sending it toppling over.
Johnson had played a satirical video of Kamala Harris being happy at seeing a mariachi band and border patrol bus. Student Travell Wright was arrested and cited for disorderly conduct and criminal mischief.
"I'm frustrated because I know that if a conservative were to do what Travell did, they would be expelled. Conservatives are in the minority on this campus and the university doesn't understand what we have to deal with," Cristina Carthey, UI Turning Point USA's secretary, told The College Fix.
🚨BREAKING: I was Giving a speech about MEMES at the University of Iowa tonight with @TPUSA.

A Kamala Harris Meme TRIGGERED the violent LIBS so bad they ATTACKED the *projector* and SMASHED IT to pieces.

I told you: The Left Can't Meme pic.twitter.com/nTwm6ijnV3

— Benny Johnson (@bennyjohnson) September 21, 2022
Following the projector incident, a letter to the editor in the student newspaper from a recently retired professor blamed the conservative event for the attack.
"An audience member interrupted to ask a question: Johnson ignored him. He next projected a 'meme' that shocked me: it was vile and racist," wrote former Professor Bruce Fehn in the Daily Iowan.
"…But what about Benny Johnson's responsibility? It is significant that Johnson's presentation contained racist content built around the plight of people fleeing economic and political oppression. … In contrast, Travell Wright reacted viscerally to material he, too, recognized as racist," Fehn wrote.
"I believe that Benny Johnson must be challenged for his irresponsibility. And what about the Turning Point USA's national office, which sends its leadership to university chapters to implement its far-right agenda?"
University of Iowa College Republicans Treasurer Kyle Clare, in an email to The College Fix, said regarding the professor's letter that "continuing to accuse college students of being 'far-right' underminers of democracy is so tiring for college students to have to deal with."
"We have to constantly defend freedom consistently. Mr. Fehn has never met any of us and it is scary to think that our university used to employ someone who talked about students that way," Clare said.
Clare authored a guest column on Sept. 28 in the Daily Iowan that spelled out additional harassment conservative students have faced since the start of the fall semester.
"A student slammed his skateboard on a Turning Point USA at Iowa tabling on the University of Iowa Pentacrest on Aug. 23 and refused to leave. A week later, a student flipped the College Republicans table at the Student Engagement Fair and struck a Students for Life member's hand with a bike helmet while yelling 'fascists' on Aug. 31," Clare wrote.
"We are not fascists, we are your classmates, we are the people who sit next to you in your lectures. We are the people who you do group projects with on the weekends. We are the people who cheer in the stands at the football games when we manage to score a touchdown. We are the people who drive the Cambuses, serve you food in the dining hall, and give you your packages at the front desk with a smile," Clare wrote.
"In fact, if we did not tell you we were Republicans, you might never figure it out. We are students who share conservative values of freedom, liberty, and prosperity. We challenge anyone who wants to draw comparisons to Hitler to get to know us and find out who we truly are."
Asked for a status update on Wright's case, Johnson County Attorney Janet Lyness told The College Fix via email that "Unfortunately if a case is under investigation by my office, we cannot give any information about it. I am also not familiar with this case."
MORE: Hoax? Iowa State 'racist graffiti' police report lacks witnesses, photos, description
Editor's note: The author of this article is a member of UI's YAF and College Republicans.
Like The College Fix on Facebook / Follow us on Twitter