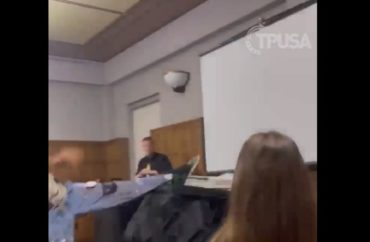 UPDATED
'Racist a** s***,' the individual screamed
A leftist individual at the University of Iowa kicked down a table and swore during a presentation Tuesday night.
The violent attack from Travell Wright came during a speech about the value of memes for the conservative movement by Turning Point USA's Benny Johnson.
Johnson played a satirical video of Kamala Harris being happy at seeing a mariachi band and border patrol bus when someone ran up to the front of the room and kicked down the table and projector while swearing.
🚨BREAKING: I was Giving a speech about MEMES at the University of Iowa tonight with @TPUSA.

A Kamala Harris Meme TRIGGERED the violent LIBS so bad they ATTACKED the *projector* and SMASHED IT to pieces.

I told you: The Left Can't Meme pic.twitter.com/nTwm6ijnV3

— Benny Johnson | Meme-Attack Survivor ✊🏽✊🏿✊🏾✊🏻 (@bennyjohnson) September 21, 2022
"Racist a** *s***," Wright yelled. "F**k you. I swear to f****** God."
Video shows the man handcuffed and being walked to a police car.
"We often say The LEFT CAN'T MEME," Johnson wrote on Twitter. "Tonight, we proved it.
I was giving a peaceful speech to the University of Iowa Turning Point USA chapter about memes this evening."
He wrote further:
During our presentation we played a harmless meme of Kamala Harris welcoming a bus full of migrants, set to tasteful mariachi music. That is when a low-T leftist strung-out on pure soy snapped into a violent rage. I watched dispassionately as the libs last drop of testosterone evaporated in an unprovoked kick-attack on an innocent projector. That projector's crime? Playing memes. Thankfully, no one was hurt by the domestic terrorist attack other than an innocent Panasonic Projector. RIP.
After publication of the article, the University of Iowa police department provided The Fix with a copy of a criminal complaint filed in Johnson County court against Wright. The complaint cited him for disorderly conduct and criminal mischief.
Editor's note: The article was updated to clarify the individual said "s***" not *b****." The article has also been updated to include a copy of the criminal complaint and the name of the accused.
MORE: Student attacked for wearing MAGA hat on Fourth of July
IMAGE: Benny Johnson/Twitter
Like The College Fix on Facebook / Follow us on Twitter