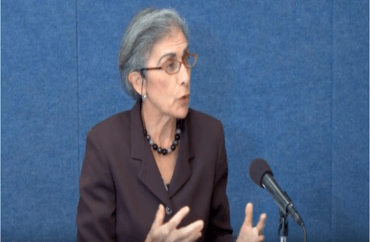 University of Pennsylvania law professor Amy Wax struck back at her critics at a Law School forum on Wednesday, chiding the current state of academic discourse at colleges.
Wax was subjected to a torrent of epithets and criticism in the wake of her Philadelphia Inquirer op-ed in which she lamented the "breakdown of the country's bourgeois culture" and said "all cultures are not created equal."
Penn's National Lawyers Guild said Wax's column was a "textbook example of white supremacy and cultural elitism" and declared her a "segregationist" with "bigoted views," all the while questioning whether she should be allowed to continue teaching a required law class.
In addition, over 30 of Wax's colleagues signed on to a letter "speaking out" against her comments, and the group Graduate Employees Together-University of Pennsylvania said Wax's piece was "hateful and regressive." It demanded UPenn President Amy Gutmann condemn the column.
In her Wednesday talk (sponsored by Penn's Federalist Society), Wax ripped the "unreasoned speech" that her column effected:
"One does have the right to hurl crude words like yuck, ick, xenophobe, hater, and of course, the ubiquitous, accusatory 'racist,'" she said. "But that doesn't make it the right thing to do or the right way to go about academic discourse."

She added that such rules have been violated repeatedly by many of those who have responded to her op-ed, specifically the 33 Penn law professors who signed an open letter published in the Daily Pennsylvanian which "categorically reject[ed]" Wax's claims.

Referring to her colleagues at times as "the Gang of 33", she called them "quintessential anti-role models" and said she thought many of them had signed the letter without believing its contents.

"The piece contained no argument, no substance, no justification on the merits, no reasoning, and no explanation for any or all of what we said was in error," Wax said.

She added that the article did more harm to Penn Law's "brand" than her op-ed did or could ever do.
An addition to the controversy perhaps came about during the post-talk question and answer session: In response to someone asking if there "were any views that Wax would deem unwelcome in the mainstream market of ideas," the professor said there are a "small number of issues which she believes 'society has settled'" — slavery being one.
"We fought a war over that. Many people died over that. We have written that into our constitution," she said. "It's settled for maybe no other reason than that the anti-slavery side won. I think that would be an issue that would not be discussed or worthy of discussion."
Read the full Daily Pennsylvanian article.
MORE: Prof. Wax: 'open letter' critical of my column 'serves no useful, constructive purpose whatsoever'
MORE: Professor Wax targeted for removal from teaching law class
IMAGE: Social media screencap
Like The College Fix on Facebook / Follow us on Twitter