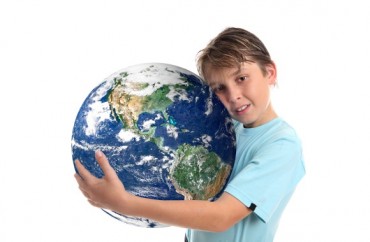 "Scores" of students at Cornell University took to the streets Thursday to attend a mock wedding between the school and the fossil fuel industry.
In the process, traffic was snarled in downtown Ithaca, New York, and a dozen activists demonstrating in support of the Wet'suwet'en people were arrested at a local Chase Bank.
According to The Cornell Daily Sun, Climate Justice Cornell officiated the "wedding," which was followed by a "reception" that caused the traffic hassles. The "union" was between huge puppets symbolizing a university clocktower and Big Oil, both operated by climate activists.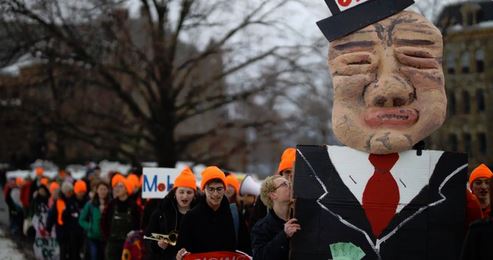 Those manning the clocktower chanted "Big Oil, you have my heart, my soul, my endowment; I promise to stay invested in our relationship for all the years to come," and in response the Big Oil figure yammered "Cornell, I got an old, wretched, dying industry, propped up by government subsidies and misinformation campaigns, yet, despite all this, you have chosen so generously to give me your money – I mean, love."
The "wedding" also featured a call for solidarity with the Wet'suwet'en people in Canada who are opposed to an oil pipeline cutting through their "ancestral lands." This ultimately led to the 12 activists being taken into custody at the bank, charged with criminal trespass in the third degree.
"Environmental justice and indigenous rights are two sides to the same coin," [student Colin] Benedict said.

Protest organizers distributed flyers with QR codes, which directed users to a contact form encouraging participants and passerby to contact the Canadian government and express their opinions about the pipeline.

Music blared as the protesters held a dance party in the intersection, waving the massive puppets while blocking traffic. As the number of protesters started dwindling, activists kept the energy high by delivering speeches on the University's new sustainability initiative, action students can take to help with the climate crisis and other issues related to divestment. …

While Cornell operations had resumed by the end of the day, the activists are intent on continuing to disrupt "business as usual" until the University commits to fossil fuel divestment.
Protesters take to Chase bank this morning with IPD keeping a close eye. pic.twitter.com/9OVblEbkpb

— Anna (@alittlelamb8) February 12, 2020
The Cornell protests coincided with "Global Divestment Day." Similar demonstrations took place at Harvard and Princeton.
MORE: Cornell climate activists 'escalate' demands, give administrators a deadline
MORE: Cornell panel explores how climate change affects 'gender identity'
IMAGES: Twitter screenshots
Like The College Fix on Facebook / Follow us on Twitter