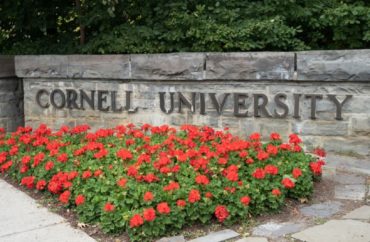 Seek to do away with the use of gendered terms like male, female, mother and father
Cornell University's Andrew Scheldorf, a PhD candidate in the school's horticulture program, has two passions, as described in a feature written about him for the school's news page.
One is working to develop commercially viable, disease-resistant apples by crossing domesticated and wild plants. The other is "challenging exclusionary practices, and elevating marginalized viewpoints" in STEM.
Scheldorf suggests members of the LGBTQ community and other minoritized groups are a lot like wild apples, according to the feature, which points out the scholar uses "he/they" pronouns.
"The way wild-type apples have been discounted can be seen as emblematic of how people from historically excluded communities have for centuries been shunted aside, forgotten, or disallowed in science, math, and engineering fields," Scheldorf said.
"I started to see an interesting parallel between wild apple species and historically excluded communities in STEM and academia more broadly. While both offer alternative solutions to major issues and lessons to make things more just and equitable, they both have been largely excluded from the spotlight."
To help bring the spotlight to these wild apples from historically excluded communities, according to the feature, Scheldorf aims to highlight the lack of diversity in images found in STEM course materials and do away with the use of gendered terms in biology classes like "male," "female," "mother" and "father."
The use of such terms "makes it more difficult for the general public to understand how the mechanisms [of plant reproduction] actually work," Scheldorf is quoted as saying. When discussing plants, less problematic terms, according to Scheldorf, include "stamen-containing," "pistil-containing," "seed-bearing parent" and "pollen-bearing parent."
It is not explicitly stated in the feature whether Scheldorf personally believes gendered terms like "male" and "female" are inappropriate more broadly in biology.
The College Fix reached out to Scheldorf via email with an interview request in late May but did not receive a response.
However, it is noted in the feature that Scheldorf is involved in several LGBTQ activist organizations both on and off campus, including Biodiversify.
Once supported by the National Science Foundation, Biodiversify was among the organizations highlighted by The Fix late last year for efforts to further LGBTQ ideology in biology classrooms through such measures as replacing allegedly problematic terms like "mothers" and "fathers" with more inclusive alternatives such as "egg producers" and "sperm producers" regardless of an organism's place on the tree of life, as well as by advancing the notion that sex is a wide spectrum subject to a multitude of influences, not a genetically determined binary.
At Cornell, Scheldorf is not alone in his advocacy in bringing change to how STEM is taught. As president of Cornell's Biodiversify Affiliate group, he and like-minded graduate students have presented publicly on topics found at the intersection of DEI and STEM.
Treasurer, Arielle Johnson, for example, gave a presentation in 2020 on research she did in part on whether normalizing failure in STEM encourages students to continue in STEM.
Moreover, members of Cornell's Biodiversify Affiliate group have organized inclusive teaching workshop series in August 2020, January 2021 and January 2023.
Previous seminar titles from these series have included "Inclusive teaching for LGBTQ+ students" and "Teaching accurate and inclusive sexual selection," as well as others pertaining to disability and race.
Descriptions of those on topics related to sex and gender generally contain some mention of the idea of teaching about those topics in an "inclusive and accurate" manner.
Interview requests emailed to several workshop presenters by The College Fix were not returned.
Daniel Barbash, a professor of molecular biology and genetics at Cornell University, told The College Fix in a phone interview he disagreed with presenting biology in this manner, especially when discussing humans and mammals.
"I think when we're talking about humans or mammals," said Barbash, "sex is biologically and genetically determined."
"Presenting that sex is on a wide spectrum, that genetics only has a small part in it, that it's not a binary, is not biologically accurate in humans and mammals," he said.
As for other efforts to change the definitions of other biological terms in the name of inclusivity, Barbash suggested many of these changes are unnecessary or may lead to confusion.
"Male and female are commonly understood terms that don't need to be redefined," said Barbash. "If we're talking about biological sex, they're very logical and clear terms to understand."
That's not to say environment cannot influence how a genetic trait presents, Barbash acknowledged, noting that even seemingly straight-forward genetic traits like the colors and textures of Mendel's peas – and presumably certain human sex characteristics – could be influenced by factors like the amount of water a plant gets or the hormone levels in a pregnant woman's body.
"However," he said, "to my understanding, [this] is not inconsistent with saying that human sex is genetically determined by the presence or the absence of the SRY gene [the gene commonly cited as responsible for determining sex in humans]."
Similarly, Barbash indicated that although there are "fascinating examples" of non-mammalian organisms such as sex-changing fish that collectively demonstrate considerable diversity in how sex can be determined in nature, he does not believe they invalidate "the fact that biological sex is a binary in humans."
When asked whether he was familiar with Cornell's Biodiversify Affiliate group, Barbash said he is aware of their existence and that his department had agreed to let representatives from the group speak to his department about a year ago, however, he was unable to attend.
Reflecting on his own approach to teaching genetics, which he said he assumes is similar to that of a lot of his colleagues, Barbash noted, "We don't want to be deliberately offensive to people."
"I think when one teaches genetics," he said, "one should be careful in how one presents human genetics. When we present non-human genetics – fruit flies and mice and roundworms and yeast and so on – we talk about mutants and wild type. Right? You don't use those terms when you're talking about humans. I think that's well understood among genetics educators."
Additionally, Barbash stated he believes the topic of intersex, which encompasses several rare developmental conditions related to sexual development, should be treated in a sensitive manner.
Barbash also said he believes that the definition of gender has evolved over the years.
"I think it's up for grabs what gender means anymore," said Barbash. "I think it's changed. I think many of us many years ago felt [sex and gender] were more or less the same thing. There's now a group of people who feel it's something very different, that is non-biological and completely human-created."
"I personally don't feel it's necessary to get into that in a genetics classroom," Barbash added. "I would prefer to say that when I teach genetics I'm talking about biological sex. Not gender. They are separate things. And I will speak only in biological terms."
MORE: Biologists say systemic racism harms birds, mammals, reptiles living in urban areas
IMAGE: Amy Lutz / Shutterstock
Like The College Fix on Facebook / Follow us on Twitter