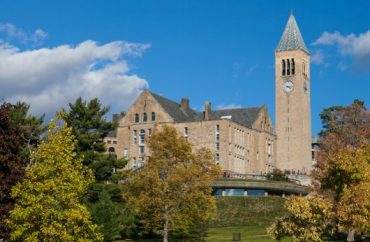 Group is now only one on campus not required to share its members names to receive funding
A Cornell University LGBTQ group is being let off the hook when it comes to reporting its members' names following the recent passing of an ally-focused resolution.
Haven, the LGBTQ group in question, is the focus of the Cornell Student Assembly's Resolution 16: "Allyship to the Cornell LGBTQ+ Community."
Under the unanimously passed legislation, Haven is no longer required to submit a list of its members to receive funding from the student activity fee, a guideline all other organizations on campus must follow.
"Providing a full membership list detailing HAVEN members' full legal names would mean compromising sensitive information regarding students' identities. This not only violates LGBTQ+ students' privacy, but also makes them vulnerable to bad actors, identity-based discrimination, and unintended outing," Resolution 16 reads in part.
The Cornell Student Assembly cited personal safety as one of the main reasons in passing the legislation.
"It is up to the students to decide when, how, and with whom they decide to share their identities; HAVEN cannot take away their autonomy and freedom of choice by disclosing that information on their behalf," the resolution states.
Piper Kohlenberger, a co-president of Haven, told the Cornell Daily Sun that providing a list of names "presents a very real danger to our community."
The Cornell University Police Department did not respond to requests for comment from The College Fix asking if they know of any threats or crimes targeting LGBT students in recent years.
While all other organizations are required to provide legal names of their members, Haven is now only required to submit numerical data about the group's overall size and event attendance.
The College Fix reached out to Haven and the Student Assembly requesting comment regarding the recent resolution, but did not receive a response.
The Cornell Student Assembly's efforts are receiving outside praise from the Foundation for Individual Rights and Expression but is being urged to expand it to all student groups on campus.
Zachary Greenberg, FIRE's senior program officer, told The College Fix via email that the Student Assembly raised "valid points about how its member disclosure requirement may harm students' privacy, safety, and free speech rights."
Greenberg also said he believes the exceptions granted to Haven should be granted to all student groups on campus.
"Instead of prioritizing the rights of one group over others, the SA should consider waiving this requirement on all groups in order to better protect all students' rights," Greenberg said.
The Cornell College Republicans did not respond to The College Fix's request for comment on whether they might seek protections like Haven and what group members think of the resolution.
In 2016, the night after Donald Trump was elected president, the president of the Cornell College Republicans at the time said she was shoved to the ground and called a "racist bitch."
MORE: Cornell LGBTQ scholar-activists fight gendered terms and sex binary in STEM
IMAGE: Shutterstock
Like The College Fix on Facebook / Follow us on Twitter