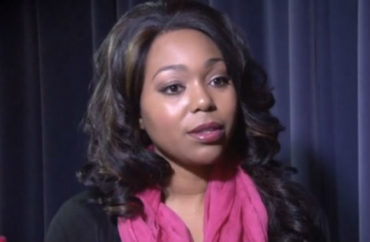 UPDATED
Her presence threatens mission of 'free speech and open discourse'
The Cornell Political Union vigorously denies that it discriminated against Jannique Stewart when it disinvited her from speaking at an abortion debate.
Rather, it simply can't afford to protect an event featuring someone so controversial.
The Cornell University student club provided The College Fix a statement confirming that it asked Stewart's organization, the Life Training Institute, to provide a different speaker without Stewart's history of "highly-contentious advocacy."
The organization hasn't responded to a Fix request to clarify what advocacy it's referring to, but the African-American Christian has publicly stated she was disinvited for advocating that sex be "reserved for marriage" comprised of "one man and one woman."
She runs a Christian ministry called Love Protects that teaches "abstinence until marriage," the "biblical view" on LGBTQ issues, and opposition to pornography.
Stewart's record "could create conditions under which members' security would be at risk," the club said: "As an undergraduate organization, we have limited funds, and paying for security would have put a great financial strain on the organization."
MORE: Stewart says she was disinvited for beliefs on 'biblical sexuality'
Without irony, the club said it couldn't accomplish its mission of protecting "free speech and open discourse" from suppression without succumbing to the heckler's veto:
To achieve our mission, it's critical that we do so in a way that keeps our members safe and does not place an undue financial burden on the organization.
It's not the first time that security fees have caused the nonpartisan group to pivot its plans with a speaker deemed controversial.
It made private a 2017 event with Tea Party activist Michael Johns, speaking on the theme "Trumpism Can Make America Great Again," after the university said the Political Union would have to pay thousands in security fees to keep it public, according to The Cornell Daily Sun. (The exact amount has been reported differently by the newspaper: either $2,000 or $1,700.)
The club's statement given to The Fix notes that it invited Johns among other "principled, conservative-leaning speakers," but not that it made the event private because of security fees. (It has yet to post the statement on its website or social media.)
Cornell Political Union statement on disinvitation of black Christian speaker Jannique Stewart by The College Fix on Scribd
Student newspaper wants security fee axed: encourages 'agitators'
The Political Union has not answered The Fix why it doesn't join with the student newspaper in demanding the university eliminate security fees altogether, to discourage the use of the heckler's veto.
Last month the editorial board mocked the university for promising a "new, innovative" system for determining security fees. "The Michael Johns brouhaha is the security fee's unfairness writ large," it said:
Cornell, in its Campus Code of Conduct, calls freedom of speech a "paramount value" on which the University has an "essential dependence." It goes on, stating firmly, "To curb speech on the grounds that an invited speaker is noxious, that a cause is evil or that such ideas will offend some listeners is therefore inconsistent with a university's purpose."

Yet by maintaining the event security fee, the University hands any and all agitators a potent tool to curb speech on precisely those grounds — or any grounds at all.

Committed protesters need only threaten on social media to stir up trouble. That, in turn, raises [the Event Management Planning Team's] assessment of security risk for a given event.
MORE: Political Union given $1,700 security fee demand to host Tea Party activist
The editorial board noted the same thing happened last year to the College Democrats, which were hit with a "surprise $660 security fee" in order to host the vice chair of the Democratic National Committee. They negotiated it down to $200.
Stewart, the black Christian speaker, told the Sun she thinks the security-fee explanation is a red herring.
It was only brought up "in the very first initial phone conversation," when Stewart was told the president and executive board would "not approve the date and topic" if security fees "were a problem." Yet the event was approved by the higher-ups, "so security fees are not an accurate representation at all of what was expressed to me."
Invites right-of-center speakers without culture-war baggage
Stewart said Political Union leaders feared a protest similar to what it faced in 2017, when abortion-rights protesters held a "Pink Out" demonstration outside an abortion debate.
Political Union President John Baker told the Sun that the club "never told her that we were going to reinvite her," contrary to Stewart's claim that she convinced the club to reconsider.
As in the club's statement, Baker cited unspecified "past advocacy activities" by Stewart that would require security that the club can't "afford at this time." He didn't specify the "security risks."
The Political Union's events largely steer clear of culture wars that are likely to provoke sustained disruptions and attempted shutdowns.
Its statement given to The Fix mentions past speakers Greg Ballard, former Republican mayor of Indianapolis known for his technocratic policies, and author Gordon Chang, best known for his 2001 book The Coming Collapse of China.
On Tuesday it hosted Michael Rubin, resident scholar at the American Enterprise Institute, for a discussion on the U.S. relationship with Saudi Arabia. Rubin was unlikely to draw the same violent protests that his AEI colleague Charles Murray, co-author of The Bell Curve, drew at Middlebury College.
The Political Union might have taken a page from the University of Miami's Federalist Society, which convinced the administration to drop its $7,600 security-fee demand in order to host Murray last year.
The Union is thrilled to have @mrubin1971 discuss whether the United States should preserve its strategic alliance with #SaudiArabia this Tuesday! pic.twitter.com/lnT4Nochba

— Cornell Political Union (@cornellpolunion) March 25, 2019
The administration reached out to The Fix Wednesday afternoon to emphasize that it had nothing to do with the Political Union's decision.
"As we have frequently noted, free speech is an essential part of Cornell University's commitment to the discovery of truth, and the University's leadership is resolute in upholding the principle of freedom of expression on our campuses," according to a statement from Joel Malina, vice president for university relations.
Malina said Cornell recently learned the student club "had already decided to rescind an invitation" to Stewart, whom Malina did not name:
They made this decision without engaging with the administration on event planning or security. The University in no way requested or suggested that any guest be excluded from attending this campus event, and to date we have made no recommendation related to potential university costs associated with supporting the event.
Asked if the administration is actively considering whether to rescind security fees altogether, or to publish a fee schedule that has no basis in the expected reaction to a speaker, a different spokesperson answered The Fix Wednesday night.
The Event Management Planning Team responded to student input from last fall by making several changes to the process, according to an administration statement Feb. 14 shared by John Carberry, senior director of media relations and news.
The statement emphasizes the four-week planning deadline has been cut in half effectively immediately for "the vast majority of events," and "many" events don't require a planning form to be filed. They include closed meetings and invitation-only events, club tabling, outside demonstrations that don't have sound amplification, and events with capacity for fewer than 50 people.
The changes wouldn't have made a difference for a Political Union event with Stewart, however, since it "allows non-Cornell community members to attend" – the very condition that led the club to make its Johns event private.
The statement buries the administration's answer to the security-fee question, which earned derision from the Daily Sun editorial board at the time:
During the fall semester, security costs for smaller events were suspended to give administrators the opportunity to address student concerns. The EMPT is still working on new policies regarding event security and hopes to have a new system in place later this year. These costs will continue to be suspended until a new system is implemented.
UPDATE: The administration contacted The Fix twice after this article was published. Its comments each time have been added.
MORE: UMiami agrees to pay security fee for Charles Murray talk
Read Sun reporting and the club's statement.
IMAGE: Life Training Institute/Vimeo
Like The College Fix on Facebook / Follow us on Twitter