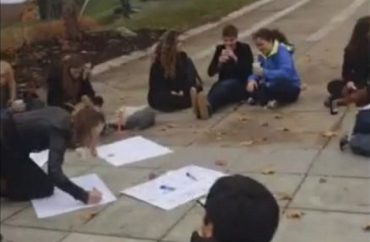 The Cornell Daily Sun reports that students hosted a "Cry In" on the quad Wednesday in the wake of the presidential election results.
"I'm quite terrified, honestly," one student told the campus newspaper as she took part in the event. "It's saying that people are really given into fear-mongering. They are willing to put people down based on their identity just so that they would feel vindicated that they would be getting rid of 'Crooked Hillary.'"
Another participant told the Sun many are in "shock" as she sipped on a Starbucks coffee cup, sitting cross-legged in the institution's Ho Plaza.
"I am concerned how this is validating the behavior of a lot of people," she said.
As the event took place, students — roughly 20 or so, according to the Sun's video — wrote their reactions and emotions on poster boards with colored markers, or with chalk on the ground. A chilly day on the Ithaca campus, at one point the demonstrators huddled together as what appeared to be a barista brought them warm drinks.
Several adults, most likely professors, stood around the group. The event appeared to take on the atmosphere of a funeral wake.
"I'd say the results are heartbreaking and such a slap in the face to so many of the populations that make up America," an older lady who appeared to be a professor told The Sun. "I think it's also an indication that there and many many people who are suffering and feel that haven't been heard and they believe that Trump will answer their needs."
On election night, Cornell students had reacted with shock and "horror" to the results.
"How the fuck is he winning? What the fuck?" said a student as Trump took the state of Ohio. Many students also said they felt genuine emotional distress "knowing that something like this could happen," the Sun reports.
MORE: College newspapers, students freak out over Trump election victory
Like The College Fix on Facebook / Follow us on Twitter
IMAGE: YouTube screenshot