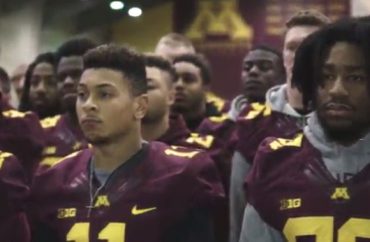 A top attorney who recently reviewed the case of 10 University of Minnesota football players suspended for engaging in a series of sex acts with a female student has found the young men's behavior "deplorable" — but not criminal.
A police investigation in October had already cleared the student athletes of the Sept. 2 sexual assault allegations, but Hennepin County Attorney Mike Freeman agreed to review the case after the UMN Gophers' mid-December decision to boycott football activities prior to their bowl game to defend their suspended teammates' due process rights prompted a national firestorm of controversy.
(IMAGE: Mid-December press conference of team announcing boycott.)
On Friday, Freeman announced there will be no criminal charges pressed against Gophers football players, re-affirming the police probe results.
Freeman, during his review, had looked into a lengthy report by the university's office of Equal Opportunity and Affirmative Action that came to light in mid-December and described the events of the evening and why the players had been suspended.
"In his statement, Freeman said the report 'shined a light on what can only be described as deplorable behavior,' but added that his office's investigation did not yield much more than Minneapolis police's initial investigation," CBS Minnesota reports.
"Reviewing the full report and comparing it to the criminal investigation file shows no new significant evidence that would enable prosecutors to bring charges against any individuals that could be sustained under our much higher standard of proof beyond a reasonable doubt," Freeman said. "As a result, our decision not to bring charges remains unchanged."
In response, campus officials stated: "We respect the County attorney's decision. As he notes, the university's athletic suspension decision rests upon different standards and different policies."
In other words, the student-athletes did not obtain "affirmative consent" for their sexual encounters, and the university has a lower burden of proof to find students guilty of rape than the legal system.
The Golden Gophers ended up winning their bowl game. The suspended players have appealed the university's sanctions against them.
Public interest law Professor John Banzhaf of George Washington University argues one reason why the players were cleared of criminal rape charges is because some of the evening's shenanigans were filmed.
"A 90-second videotape of the female complainant apparently having sex voluntarily with several Minnesota football players probably helped them avoid a rape charge, now for a second time," he stated in a news release after Freeman's announcement.
According to Banzhaf:
The 90-second videotape, according to the police, showed the complainant apparently performing oral sex on one player, while another player is having vaginal intercourse from behind her.

Still according to the police, the "female sounded somewhat intoxicated, but her coordination appeared to be normal and she did not slur her words. She does not appear to be upset by the sexual activity. She does not indicate that she wants it to stop."

The Minneapolis Police Department concluded that the sex "appears entirely consensual," and that her intoxication did not invalidate her consent.

Thus the police did not press charges because, as they said, they could not prove "that either force was used or that the victim was physically helpless as defined by law in the sexual encounter."

Clearly, videotape evidence such as this would provide a very strong defense to a charge of rape based upon an alleged lack of consent, says Banzhaf, who wonders why it isn't being done even more often.
MORE: College athletes can avoid kangaroo courts more easily if they avoid risky sex
MORE: UMN football players boycott football until teammates suspended over unproven rape claim reinstated
Like The College Fix on Facebook / Follow us on Twitter