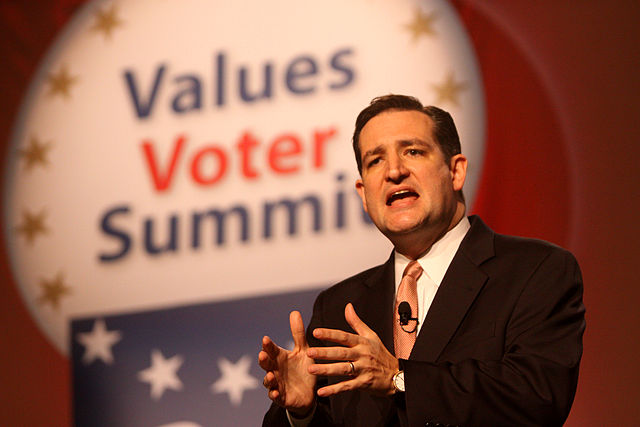 The usual suspects will speak this week at the Conservative Political Action Committee confab, a.k.a. CPAC, during which thousands of Republicans, conservatives and libertarians converge to brainstorm, network and strategize.
Launched in 1974 with Ronald Reagan as its first featured speaker, the annual March event, organized by the American Conservative Union, has grown ever since.
However, as much as CPAC attempts to rally, galvanize, and unify conservatives, it often ends up exposing serious rifts and disagreements within the movement. This year's slate of speakers promises to do the same.
The usual suspects will all be present. Mitt Romney's silver sideburns will be seen in a major public venue for the first time since his defeat in the November election. It will be interesting to see if his tone and rhetoric have undergone any changes; perhaps a more believable and relatable as person will emerge.
Romney's running mate, Paul Ryan, will also be there. He's been relatively quiet and arguably soft lately. He could really use a hard-hitting, passionate speech filled with great ideas to help regain some of the relevance and credibility he once enjoyed.
Then, for entertainment purposes, CPAC has also invited Sarah Palin, whose relevance and credibility are certainly in their twilight hours.
As mentioned above, CPAC is often a microcosm of intraparty battles. There are two emerging factions within the Republican Party; we'll call them the "conservatives" and the "libertarians."
Marco Rubio has enjoyed a meteoric rise in the conservative ranks. Elected to the Senate in 2010, he has earned a place of prominence and is widely viewed as one of the top contenders for the 2016 presidential nomination. Earlier this year, he delivered the official Republican response to the State of the Union address, during which he lunged for a now infamous water bottle.
Contrast Rubio with another first-term senator, Rand Paul of Kentucky. Paul, a polished and subdued version of his father, is the face of the libertarian wing of the Republican Party. While Rubio's and Paul's speeches at CPAC will likely contain a lot of the same messages, Paul will likely differ on issues of war, defense spending, and civil liberties. We'll most likely also hear him call for an audit of the Pentagon.
One of Paul's closest allies in the senate is Mike Lee, a quieter and less controversial libertarian, although many might consider him more principled from an ideological perspective. He is one of a few potential surprises that we may see this year at CPAC.
Ted Cruz, only a few months in to his freshman senate term, has already made a name for himself for his boisterous and often blockading views and votes. As an ethnic minority, like Rubio, he could potentially become a Very Important Person as Republicans seek to adapt to modern demographics.
One more senator, Tim Scott of South Carolina, will make his first influential national speech at CPAC. He is well-known in his home state for being exceptionally hawkish on fiscal issues, and it will be interesting to see how well he introduces himself to conservatives across the country.
Finally, Dr. Ben Carson is poised to become the next Herman Cain, hopefully with a few more brain cells. This Johns Hopkins powerhouse will certainly be a favorite of the anti-Washington-insiders crowd.
CPAC 2013 will also feature a number of young political and ideological rising stars.
Jeff Frazee is the founder and Executive Director of Young Americans for Liberty (YAL), an organization that boasts a membership of over 125,000 people and possesses a network of over 380 local chapters on college campuses nationwide. Their stated goal is to "identify, educate, train, and mobilize young people on the ideals of liberty and the Constitution."
A similar organization, Students for Liberty (SfL), which was founded in 2008, is led by Alexander McCobin, who will also speak at CPAC. SfL's biggest claim to fame is their annual international conference, which draws thousands of youngsters from around the world. Both Frazee and McCobin are expected to deliver speeches with libertarian themes; McCobin's may prove to be the most libertarianesque of all the speeches at CPAC.
Francesca Chambers is the editor of Red Alert Politics, a popular conservative online news site geared toward college students. Chambers and the two young men represent the future of conservatism in America.
Perhaps the most interesting aspect of the speaking line-up is who will not be present. The ACU was wise to not include the likes of Donald Trump, to be sure, but many are left scratching their heads at the exclusion of Chris Christie.
Fix contributor Joseph Diedrich is a student at the University of Wisconsin-Madison. He is also Director of Operations of Young Americans for Liberty at UW, and a columnist for Washington Times Communities.
CLICK HERE to Like The College Fix on Facebook.
IMAGE: Gage Skidmore