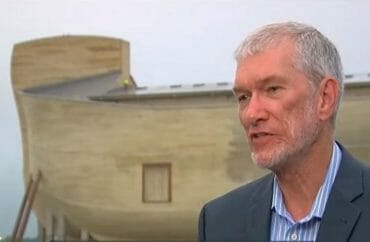 Earlier this month, well-known biblical creationist Ken Ham was disinvited from speaking at the University of Central Oklahoma by student government organizers after intense pressured from campus LGBT activists.
But the president of the university has reversed that decision, re-inviting Ham, calling the controversy a "teachable moment," and launching First Amendment workshops to boot.
UCO President Don Betz released a statement which stated in part:
By exposure to new ideas, no matter how controversial, we are able to winnow and sift the wheat from the chaff. Through that process, we are able to gain new insights. The misrepresentations about the social commitment of UCO to free inquiry has demonstrated that we are presented with the opportunity for a "teachable moment" on the principles of civil discourse and the pursuit of knowledge.

As a result, I am implementing a series of conversations to fully explore these issues to the benefit of both our campus and external communities that fulfills our social obligations as an institution of higher education. Although final details are still emerging, I wanted to share with you the actions that I have directed to be implemented:

First, I have invited Mr. Ham to present his perspective in the same format as it was originally proposed. This will occur on the same day and place, with a change of time. Mr. Ham will speak at 3 p.m. on Monday, March 5, in Constitution Hall.
Betz went on to state additional workshops will include a presentation on the Constitutional
provisions of the First Amendment and freedom of expression, a discussion on the contemporary processes of scientific inquiry and evolution, and a panel discussion on freedom of expression and freedom of speech as appropriate to the university.
Ham, in public statements, suggested political pressure helped play a role in the reversal.
"I'm thrilled my talk at UCO is back on again. UCO officials have definitely heard from many concerned state legislators, several local residents, and alumni about the denial of our right to free speech," Ham stated. "Furthermore, by moving my talk from the evening to the afternoon, we now have the opportunity to reach even more UCO students during the school day. UCO is a commuter campus, and many of its students might not have been able to attend in the evening."
MORE: Creationist Ken Ham disinvited from speaking at Univ. of Central Oklahoma
Like The College Fix on Facebook / Follow us on Twitter