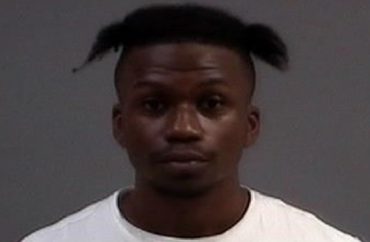 A hearing is set for May 25
A Virginia State University student accused of murdering his peer continues to face criminal charges.
A preliminary hearing has been set for May 25 to determine if a formal indictment will be issued for Isaac Amissah (pictured). He has been charged with the "murder of Daniel Wharton in the second degree," and "attempt to use, or display in a threatening manner a firearm while committing or attempting to commit murder," according to arrest warrants provided to The College Fix through a public record request.
Amissah's attorney David Whaley declined to provide comment to The Fix.
"I am unable to comment on this matter," Whaley stated in an email on February 16.
The May 25 hearing will be "an evidentiary hearing" where the court is asked to determine if there is "probable cause…that the alleged crime was committed," Assistant Commonwealth Attorney Geoffrey Easton told The Fix via email. Easton is a prosecutor with Chesterfield County.
"If the court determines probable cause does not exist, then the case is dismissed," Easton said. "If a case is certified to a Grand Jury, that body will make a similar probable cause determination based on a summary of evidence provided by a witness."
"If the Grand Jury determines probable cause exists, they will return a true bill for indictment for the defendant and the case will proceed to Circuit Court for trial," Easton said.
Amissah has a history of criminal accusations
Amissah has previously faced drug and gun charges.
He allegedly killed Wharton on December 5, 2021 while out on felony probation for "disregarding signal by law enforcement officer to stop [or] eluding police."
Amy Ashworth, the prosecutor for Prince William County, dropped gun and drug charges against Amissah. The court ordered him to probation on August 26, 2021.
Ashworth, who ran on a campaign of decriminalizing drug possession and "focusing on the crimes that do the most harm, not the crimes that put the most people in prison," previously told The Fix that her decisions were not part of her platform.
"Given the circumstances of the arrest and the evidence in the case, this was the most serious and appropriate charge for the Commonwealth to proceed upon and Mr. Amissah freely and voluntarily admitted his guilt," Ashworth told The Fix.
"There was insufficient evidence to proceed on the marijuana charges given the finding by the Department of Forensic Science that the plant material tested did not meet the legal definition of marijuana," she told The Fix.
VSU spokesperson Gwyneth Dandridge did not respond to three emailed requests for comment sent in the past week that asked about Amissah's enrollment status.
MORE: Why did cops shoot our knife-wielding son, parents ask
IMAGE: Chesterfield Police Department
Like The College Fix on Facebook / Follow us on Twitter