The director of a "critical race" center at Florida Gulf Coast University recently took to a local paper to assert that, in the national battle over critical race theory, Republicans are using Martin Luther King Jr.'s words as "weapons of whiteness."
Ted Thornhill, who runs the Center for Critical Race and Ethnic Studies, writes in the Naples Daily News that Republicans "don't care about Dr. King, his work or his legacy."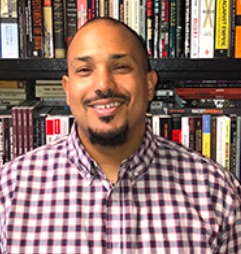 The GOP, he says, is the "ideological offspring […] of exactly those white people who hated" the civil rights leader. These "conservative foot soldiers" — or, as he puts it, "tens of millions of iniquitous clowns" — are protesting at school board meetings, social media and elsewhere, while Republican politicians such as Ron DeSantis and Ron Johnson do the "heavy lifting."
Thornhill (left) says people should be "highly suspicious" of those who "cherry-pick" quotes from Dr. King, most especially that about the content of people's character.
"Such individuals are intellectually and morally bankrupt. This has always been a shameful conservative proclivity, but in the context of their orchestrated controversy over critical race theory, it is especially wicked," the sociology professor says.
From there, Thornhill proceeds with the usual (progressive) litany of complaints regarding conservatives and opponents of critical race theory:
Decent human beings don't quote Dr. Martin Luther King, and then support and enact racist laws and policies that undermine the right to vote, the right to protest and the freedom to learn an accurate and comprehensive account of the nation's history — the magnificent and the terrible.

There is an overwhelming body of peer-reviewed, empirical social science research that documents how white Americans continue to benefit from, and racially minoritized groups continue to be harmed by, various laws, policies and practices. It is this fact that Republicans are attempting to prevent students from learning. They're doing so because they know that without a historically accurate and sociologically informed understanding of racism and white supremacy in the U.S., there can be no serious attempt to meaningfully address the nation's intractable problem of racial inequality. Stated differently, they're doing so to maintain systemic white advantage.

Instead of white grievance-motivated rants and screeds, and feigned thoughtful responses, conservatives should learn what it is that scholars, activists and educators know – that the white racism of the past informs the white racism of the present, and the nation is awash in it.
According to his faculty page, Thornhill teaches sociology, "Social Stratification" and "White Racism." He believes in turning his students into activists — to "challenge and push back against a system … that discriminates and marginalizes and trivializes people who are not racialized as white."
MORE: Six states have banned critical race theory, with more to come
IMAGES: YouTube screencap; Florida Gulf Coast University screencap
Like The College Fix on Facebook / Follow us on Twitter