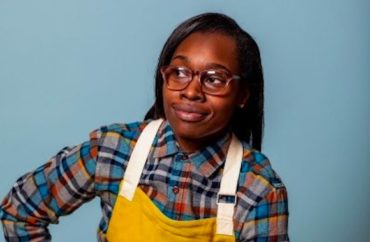 The self-proclaimed "first Black female" instructor at the Culinary Institute of America says she tells people that she has "three strikes against [her] in the kitchen": She's female, black and gay.
Roshara Sanders (pictured) told the HuffPost she "definitely felt a change in the kitchen" after being "outed" in a 2017 Black History Month network segment.
"As chefs, we don't walk around and say, 'Hey, I'm gay,'" Sanders said. "But once the information is out, there's definitely a shift in attitude." Sanders added she believes men are "intimidated" by her as she is a "masculine-presenting woman."
"They took a step backward from me," she said. "Of course, nobody is ever going to say, 'I don't like you because you're gay.'"
Although the LGBTQ community is over-represented in the restaurant industry — almost 20 percent — Sanders said there is "a certain type of talk that's permitted in kitchens."
"I think kitchens need to evolve to include the LGBTQ community into that welcoming space," she said. "Unfortunately, I know people who have gone through the proper channels to let their bosses know of homophobic incidents and it falls on deaf ears. You have to have a manager who has your back."
MORE: Univ. of Arizona protesters demonstrate at restaurant called 'Illegal Pete's'
I think the people who suffer the most are in front of house; they're the public face of a restaurant. I was recently out with some friends and our server was a trans woman. The table next to me didn't want that server because she was a trans woman, and they asked for a different server. The guests were told the server would not be switched and they left because "it did not fit with their beliefs and didn't want their kids confused." The server then had to be told why the guests left, and I'm sure that was a devastating feeling. This trans woman waited on our table and was so happy to have people accept her and allow her to do her job. …

Being LGBTQ is still taboo in many places. When you look at what's happening in countries such as Uganda, where there's the death penalty for being gay, and then the laws being passed in this country, you know that there are people who are not able to live their truth because they fear for their lives.
Sanders' contention about the restaurant environment appears to jibe with a 2022 report from One Fair Wage which noted LGBTQ (restaurant) employees face higher instances of "sexual harassment, homophobia, and transphobia" than their straight peers.
On the other hand, former restaurant employee and current gay-issues podcaster Dante Adonis Rhodes said the business is "one of the few industries where [gay folks] are allowed to be ourselves."
"Working in the hospitality and food and beverage industry has been one of the hidden gems in the success story of my life," Rhodes said. "[T]he journey of working in a restaurant has put me in a position where not only have I been given the chance to be myself, but in doing so I have been afforded opportunities that I would have never dreamed of."
MORE: Former Harvard professor sues: Tenure denial partly due to his complaint about restaurant
IMAGE: Roshara Sanders / Twitter
Like The College Fix on Facebook / Follow us on Twitter