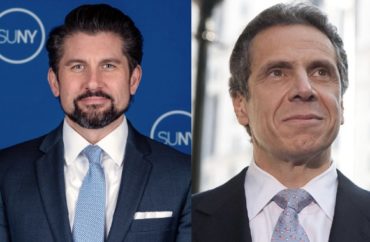 The State University of New York will start this semester with a new chancellor, after an Andrew Cuomo ally left the job on January 14.
Jim Malatras submitted his resignation in December after the Attorney General's office published evidence as part of its investigation into the former governor. Included in that evidence were messages from Malatras to the governor's aides about Cuomo accuser Lindsey Boylan.
At the time of the text messages, Boylan had accused the administration of having a toxic workplace, but had not specifically made sexual harassment allegations against Cuomo.
"Malatras to Boylan: Go f***yourself," Malatras said. He also said "Let's release some of her cray [crazy] emails!"
Malatras worked as president of SUNY Empire State College but also worked in the Cuomo administration before being named chancellor.
"We want to thank Dr. Jim Malatras for his extraordinary service to the entire SUNY system," Holly Liapis, a SUNY spokesperson told The College Fix on January 7. "The past two years have been among the most trying in SUNY's history—and Jim's leadership and collaboration with our faculty and staff have allowed our institution to continue to thrive and serve our nearly 400,000 students at 64 campuses across our state safely and in person."
"He has been a champion for our students, for access, for equity, and for deeper public investment in this great institution. The entire board expresses our gratitude for his dedication and leadership," Liapis said.
In his resignation letter, Malatras said he "had no higher honor in my lifetime of public service than serving as the 14th Chancellor of the State University of New York." The former chancellor said the events had become "a distraction,"
"[I]t is no exaggeration to say that the SUNY system is the jewel of the Empire State. It has been my privilege to serve as its leader," he said.
Bipartisan support for his resignation
The Empire State's College Republicans and Democrats' organizations both agreed Malatras needed to resign.
"College Democrats of New York call on the SUNY Chancellor Jim Malatras to resign from his position, and strongly encourage Governor Hochul and the SUNY Board of Trustees to remove Malatras and to conduct a thorough nationwide search for a chancellor should he fail to cooperate," Savannah Chadwick with the College Democrats of New York said, according to the New York Post.
"The malicious words written by Malatras run counterproductive to the mission of higher education institutions," Augustus LeRoux with the New York Federation of College Republicans said.
SUNY will temporarily replace Malatras with another president from its system.
Deborah Stanley, former president of SUNY Oswego will take over as temporary chancellor.
"I do not take lightly our responsibility to make sure we are providing a safe and welcoming environment that allows our students to grow academically and provide the foundation to pursue and reach their goals and dreams," Stanley said in a statement shared with The Fix. "During this leadership transition, their success will be my highest priority, and I look forward to leading this great university system to new heights."
MORE: Cuomo signed 'affirmative consent' law that he likely violated
IMAGES: SUNY; Pat Arnow/WikimediaCommons
Like The College Fix on Facebook / Follow us on Twitter