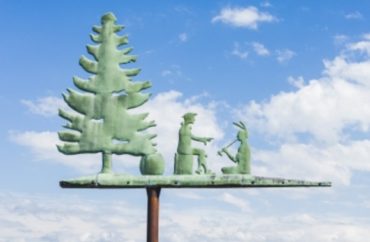 Sitting at a teacher's feet is racist?
White guilt is so powerful that it makes you ashamed of wanting to educate nonwhites.
Dartmouth College is removing a 600-pound weather vane on a library tower because it illustrates the founding purpose of the 251-year-old college, which was to educate Native Americans.
The depiction features founder and Congregationalist minister Eleazar Wheelock sitting on a tree stump and teaching a Native American sitting in a position I grew up calling "Indian style" (above).
In its Monday announcement of the planned removal, Dartmouth says the student is "wearing feathers and smoking a long pipe," and its historical records suggest the shape behind Wheelock is a barrel of rum.
Apparently these design choices from 1928 make the weather vane "offensive" and out of step with "Dartmouth's values," in the words of President Phil Hanlon.
The more offensive thing is actually Dartmouth failing to live up to its values for most of its history. Even though one of Wheelock's students, the Mohegan Indian Samson Occom, "was instrumental in raising the funds necessary to found the College," it didn't actually educate Native Americans until 1970.
MORE: Dartmouth protesters are guilty of 'race hatred and misogyny'
That's when President John Kemeny established the Native American Program and told admissions officers to recruit Native Americans. Now the college leads the Ivy League in enrolling and graduating such students, who represent more than 200 tribes, according to the announcement.
Hanlon gets to pass the buck for what replaces the vane: A working group put together by spokesperson Justin Anderson will decide that, as well as "whether iconography across the institution needs to be changed."
Dartmouth fails to make an argument for what is offensive about one race learning from another, but a Change.org petition with nearly 900 signatures claims it "symbolizes the degradation and annihilation of Native Americans by white colonists":
It is a caricature of a young male Native being "educated' by the white schoolmaster. The Native American is smoking a pipe of tobacco while the white man has a keg of rum. The depiction is a sad reference to the plight alcoholism and drug addiction played in the stealing of native lands to found Dartmouth College. [Well, that's one interpretation.]
It would be one thing to say the vane misleads the community about Dartmouth's historical commitment to its founding purpose, as does the petition, but it doesn't stop there. It calls the vane "a sad relic of white oppression" that also mocks black people, because black slaves cut down the tree to create the stump where Wheelock sits, yet they are not mentioned on the artwork. (If you're keeping score: depicting an American Indian and not depicting an African American are both racist.)
MORE: Dartmouth devotes $1 million a year to diversity initiative
The student group Native Americans at Dartmouth also denounced the vane in a Friday statement to Valley News. (According to Campus Reform, the student statement gave a massive boost to the three-week-old Change.org petition, which only had about 100 signatures at that point.)
The depiction of a student at a teacher's feet – a common learning pose across cultures – actually "demonstrates an inherent subversion of Native people and upholds a narrative of white supremacy," the student group said.
They feel oppressed by the vane because it's 200 feet above campus, making it "inescapable" for indigenous students, who are apparently constantly looking up when crossing campus:
It is hard to feel a sense of belonging at an institution when everyday you are reminded of how little our systems of knowing, our traditions, and our cultures are valued.
That would have been a reasonable criticism before 1970, when the Native American Program was finally created. Fifty years later, it comes off as just another entry in the never-ending Oppression Olympics of the Ivy League, populated by some of the most privileged and least appreciative people on earth.
MORE: Tuition hikes suggest Ivy League is price-fixing, activist alum says
IMAGE: Robert Gill
Like The College Fix on Facebook / Follow us on Twitter