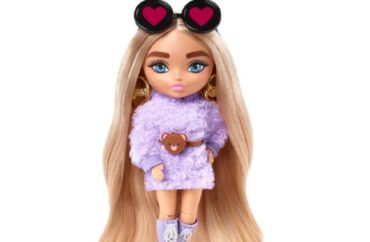 He worried his daughter had already become a victim of racism
Boston University Professor Ibram Kendi recently shared an experience he, his partner and their daughter had with a daycare.
Kendi, who has made hundreds of thousands of dollars on the idea that all of America is racist, wrote an essay on June 7 in The Atlantic where he recounted what happened in 2017.
At first, the couple "laughed off" and didn't worry that their daughter Imani played with a "blue-eyed white doll" at the daycare.
But then Kendi began to wonder if his daughter had "already breathed in what the psychologist Beverly Daniel Tatum has called the 'smog' of white superiority."
He wrote:
Maybe our minds were sounding a false alarm. Maybe the eye and skin color and hair texture of the doll had no bearing on why Imani had become attached. I did not know. No one knew. But I did know why the alarm was ringing.
Kendi then spent 17 paragraphs giving a history of toys and racism going back to 1897 through the present day, before returning to his concerns that one day in 2017.
"Regardless of your race, it's never too early to consider the messages a child is receiving from the world around them," he wrote. "Color blindness is not an option. Research has demonstrated that even at 1 year old, our children notice different skin colors."
"We can impress upon children the equality of dark and light colors," the author of the "Antiracist Baby" wrote.
"We can use dolls to acknowledge difference in skin color but dismiss the racist notions that the darker, the worse," Kendi wrote.
But thankfully one day his daughter "tossed the white doll aside" which Kendi and his partner saw as a victory.
But he erred, he said, because had not checked out if there was a diverse set of dolls at the daycare. "Anger overtook me. Not at the day care's owner—at myself. Imani had been going here for several weeks, and not once did I examine the toy chests," he said.
It turned out his daughter had no other option because there were only white dolls in the toy chest.
"We told the owner about the white dolls before leaving for the day. Changes came," Kendi wrote. "But I had failed my doll test."
MORE: 'Legal vote' is racist term, Kendi says
IMAGE: Mattel
Like The College Fix on Facebook / Follow us on Twitter