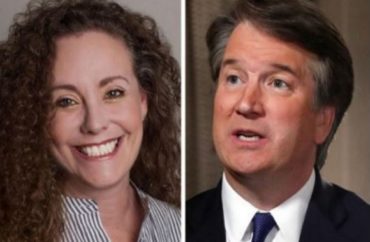 He was previously suspended
Will Rainford has resigned his position as dean of the National Catholic School of Social Service at Catholic University. He had been previously suspended for a tweet about one of Brett Kavanaugh's accusers, Julie Swetnick, who has since recanted some of her claims.
What's more, earlier this month, a 414-page report released by a Senate panel found "no evidence" to back Kavanaugh accusers' claims.
Rainford will remain on the faculty as an associate professor, according to his letter of resignation. He will take a sabbatical in the spring semester. His letter does not address exactly why he stepped down, except to offer generic platitudes about how it's the best thing for the institution. But it comes after he became the target of outrage on social media for his tweet questioning the validity of Swetnick's claims.
Rainford became the subject on controversy in late September when he used his official university Twitter account to post criticisms of Swetnick, one of Brett Kavanaugh's accusers.
"Swetnick is 55 y/o. Kavanaugh is 52 y/o. Since when do senior girls hang with freshman boys? If it happened when Kavanaugh was a senior, Swetnick was an adult drinking with & by her admission having sex with underage boys, In another universe, he would be victim and she the perp!" he wrote on the @NCSSSDean Twitter account.
John Garvey, the president of the university, suspended Rainford shortly afterwards for the duration of the semester. At the time, Garvey described Rainford's tweets as "unacceptable" and indicative of a "serious lack of judgment and insensitivity."
Shortly after posting the tweet, Rainford deleted it, along with the account, and issued an apology for being "impulsive and thoughtless."
Swetnick had claimed Kavanaugh helped spike drinks at parties to make it easier for girls to be gang-raped, while Kavanaugh called the allegations "ridiculous and from the Twilight Zone," Fox News reported, adding that more recently, Swetnick and her embattled attorney, Michael Avenatti, were referred for criminal investigation for an alleged "conspiracy" to provide false statements to Congress.
Garvey, the president of the university, has since commended Rainford for his "commitment to the Catholic mission of the school" in a statement posted last week responding to the former dean's resignation.
Marie Raber, who is serving as interim dean in Rainford's place, also praised the resignation, saying, "I hope this news will help faculty, students, and alumni to recognize that University leadership has heard and respected their concerns," in the university's statement.
MORE: Telling the truth is professional hazard to scholars: op-ed
Like The College Fix on Facebook / Follow us on Twitter