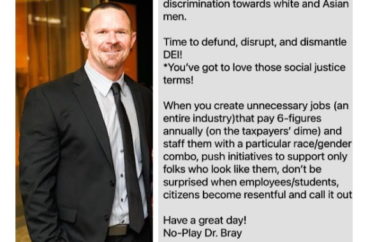 From causing controversy on Linkedin to penning piece for Heterodox STEM
Kennesaw State University finance Professor David Bray has recently grown his efforts to battle critical race theory from his Georgia school to the national stage.
Bray is one of the most vocal critics of progressive-left ideologies on his campus, including sending reply-all emails questioning the validity of whiteness trainings and changing his pronouns to "hilarious/handsome/homosexual" to make a point.
More recently, the self-described WTF — white, tenured faculty — has engaged a wider audience. For example, he took to Linkedin to advance his message.
In his Linkedin posts, Bray primarily challenges Diversity Equity and Inclusion, or DEI, efforts on campuses across the U.S.
He instead advocates for Merit, Fairness and Equality, or MFE, a growing alternative created by Professors Dorian Abbot of the University of Chicago and Ivan Marinovic of Stanford University.
"I've decided to go to Linkedin to speak directly to everybody in corporate America who feels silenced and can't speak up," Bray told The College Fix in a recent Zoom interview.
"My goal was to speak for my former students and let those in corporate America who do feel silenced know that someone in academia is trying to enlighten everyone including taxpayers and business folks," he said.
One message he posted on Linkedin in mid-January was viewed more than 1,600 times, he said. In it, Bray stated it's time to "defund, disrupt and dismantle DEI."
"When you create unnecessary jobs (an entire industry) that pays 6-figures annually (on the taxpayers' dime) and staff them with a particular race/gender combo, push initiatives to support only folks who look like them, don't be surprised when employees/students, citizens become resentful and call it out," Bray wrote.
His Jan. 30 piece for Heterodox STEM described some of his Georgia campus efforts as well as encouraged peers nationwide to join him in fighting back.
"I believe that we can organize, at the national level, around the ideas of merit, fairness, and equality (MFE) presented by Dorian Abbot and Ivan Marinovic," he wrote. "…DEI is the political trojan horse that infected our campuses with woke, left-wing ideologies. They espouse antiracism (current discrimination of whites to fight past discrimination of non-whites) and supposed social and racial justice."
"There must be balance restored on campuses and I think a 'National Association of MF'Ers' is way overdue."
A former non-user of social media, Bray went most of his life without posting anything on popular discussion sites such as Twitter, he told The Fix. In doing so, he aimed to avoid the way social platforms seemed to reinforce the beliefs of his peers, rather than challenging them, something he likened to "an echo chamber."
When asked the reasoning behind his decision to use Linkedin, a platform used primarily for maintaining professional connections and finding employment, Bray said it was the only place he truly felt welcomed to engage in political discourse as an academic.
"There's no office on campus where people like [me] can go to. There's nowhere for me to voice [my opinion] so I had to go to Linkedin to do so," he said.
His issue with DEI is not the notion of diversity and inclusion, but rather its execution by campus administrators across the country wherein division, not unity, is the primary outcome, he said.
"I'm homosexual, and I date outside of my race all the time; I love diversity. The way it's being pushed through the diversity office is toxic," he said.
Though his posts often align with conservative thought, Bray was quick to acknowledge that he does not feel a strong connection to any major political parties.
"I wouldn't consider myself a conservative. In fact, according to the dictionary, I would consider myself a liberal," Bray said.
Editor's note: Jackson Walker contributed to this report.
MORE: Professor fights DEI: 'We need to get away from tribalism, get back to Americanism' (VIDEO)
Like The College Fix on Facebook / Follow us on Twitter