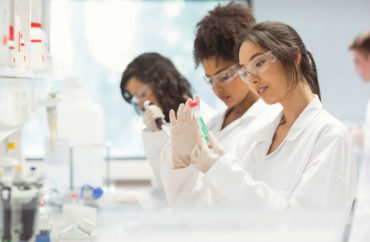 'The intrusion of DEI into science that the report documents is absolutely staggering and alarming'
Diversity, Equity and Inclusion language has increased "exponentially" over the past several years in STEM, according to a quantitative study from the National Association of Scholars, which argued in releasing its findings that the trend "promises to do great intellectual and economic damage."
"DEI indicators linked with STEM have risen 2,600 percent compared to a decade ago on university websites, with similar trends observed in social media content," states the study published November 29 by NAS, a center-right nonprofit focused on reforming higher education.
Titled "Ideological Intensification," the report also found DEI-related language in scientific publications increased up to 4,200 percent from 2010 to 2021.
Mason Goad, a researcher at NAS, and Bruce Chartwell, a pseudonymous data scientist, co-authored the study, which "documents and quantifies the growing prevalence of DEI-associated language in science, technology, engineering, and mathematics (STEM) fields in the United States."
The association stated that it commissioned the study "in an attempt to document the natural sciences' conversion from seeking truth to forwarding political objectives."
Goad, in an email to The College Fix on December 15, said that to "the unobservant and unquestioning, Diversity, Equity, and Inclusion sound like the tenets of basic human decency, but the truth is that DEI is often a cover for a particular political ideology that will corrupt the sciences completely."
"Ideological Intensification" involved over 30 gigabytes of data in more than 280,000 files, which the association bills as the largest quantitative study thus far focused on the spread of DEI ideology in STEM.
It lists five different online sources of data: U.S. research university websites, research university Twitter accounts, annual programs of academic associations, grants of three major scientific research funders, and scientific publications.
The study concluded DEI language "increased significantly over the last decade, accelerating over the last few years in particular" in all datasets except the annual programs of academic associations.
"Of the 100 university websites we surveyed, the number of webpages that use both STEM and DEI terms grew from 110 in 2010 to 2,891 in 2021. This finding suggests that DEI is being linked with STEM over 26 times more frequently than it was a decade ago," the report states.
DEI ideology is noted to be more prevalent at elite institutions—webpages of Ivy League universities attaching DEI to STEM were proportionally almost two times those of non-Ivy League schools as of 2021, according to the study.
A Dec. 7 news release by NAS cites evidence from the report crediting the Black Lives Matter movement with causing an increase in connections between DEI and STEM, pointing to a spike in occurrence in the summer of 2020.
"Ideological Intensification" also documents a rise in DEI and social justice-related terminology on university Twitter accounts, mainly manifesting as "explosions of interest followed by reversion to the mean, rather than the steady growth exhibited in the universities' web sites."
"The intrusion of DEI into science that the report documents is absolutely staggering and alarming. It is consistent with my personal experience, yet I still was surprised to see that data on how quickly things have changed since 2015," said prominent geophysics professor Dorian Abbot in an email to The College Fix on December 15.
Abbot, who teaches at the University of Chicago, has promoted a merit-based alternative to DEI standards. He was targeted by cancel culture at the Massachusetts Institute of Technology last year, which canceled a guest lecture due to his criticisms of DEI.
The report also found research spending related to DEI rose by about 300 percent in 2020-21 by the two main funders of scientific research, the National Institutes of Health and the National Science Foundation.
"Scientists must be free from politicization to both maintain the public's trust and make progress in their particular fields. Those scientific fields include areas such as medicine and healthcare, national security, cybersecurity, and more, all of which hold immense societal importance," Goad told The Fix.
Goad said he thinks part of the solution includes alumni groups becoming "more involved."
"In my conversations with students and faculty focused on scientific education and research, I have observed that many are concerned about the ideology of DEI, but few fully comprehend it, and even fewer feel capable of articulating the criticisms of DEI to their colleagues and classmates," he said.
"For that reason, alumni should reach out to the faculty and students to educate them about the threat that DEI poses not only to the sciences, but also to their educations and careers."
MORE: 1,800 STEM scholars sign letter against proposal that would dumb down K-12 math in California
IMAGE: Wave Break Media / Shutterstock
Like The College Fix on Facebook / Follow us on Twitter