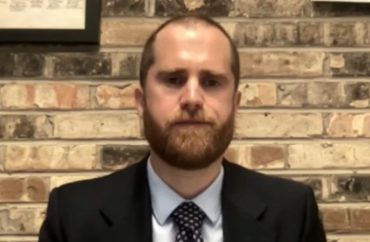 MIT backed down from hosting Dorian Abbot
Princeton University's James Madison Program hosted a successful event on October 21 with University of Chicago physicist Dorian Abbot.
The more than 4,000 person Zoom event came after the Massachusetts Institute of Technology canceled Abbot's planned lecture on climate change after criticism from graduate students and other community members. Abbot has criticized diversity initiatives and recently launched an initiative to promote what he calls "Merit, Fairness and Equality" instead of "Diversity, Equity and Inclusion."
The Massachusetts university remains open to hosting Abbot at a later date.
MIT's loss became Princeton's gain after Professor Robert George invited Abbot (above) to speak through the James Madison Program.
Abbot lectured on "Climate and the Potential for Life on Other Planets," according to campus paper The Daily Princetonian.
"We at the Madison program, consider this disinvitation by MIT to be chilling to academic freedom and free speech," Professor George wrote, explaining why he invited Abbot.
The Princeton professor holds socially conservative views and has written on topics such as abortion and marriage but maintains friendships with liberal professors such as Cornel West. West and George helped found the Academic Freedom Alliance to support debate in academia.
"The topic of the lecture was entirely on Abbot's research regarding climate change and planetary visualization, and he did not mention the canceled Carlson lecture or any other controversy," the campus paper reported.
Professors criticized Abbot's invitation to MIT
The New York Times covered the controversy and spoke to one professor who said "intellectual debate" and "rigor" are connected to "white men."
"This idea of intellectual debate and rigor as the pinnacle of intellectualism comes from a world in which white men dominated," Williams College Professor Phoebe Cohen told the Times.
"Besides freedom of speech, we have the freedom to pick the speaker who best fits our needs," MIT Professor Robert van der Hilst told the Times, explaining why he chose to withdraw the invitation for Abbot to speak. "Words matter and have consequences."
"Freedom of speech goes very far but it makes civility difficult," the Earth sciences professor said.
Black students might have difficulty with Abbot's critiques of affirmative action, too, the New York Times reported van der Hilst as saying. "Dr. van der Hilst speculated that Black students might well have been repelled if they learned of Dr. Abbot's views on affirmative action."
MORE: Check out the cancel culture database
IMAGE: Fox News/YouTube
Like The College Fix on Facebook / Follow us on Twitter