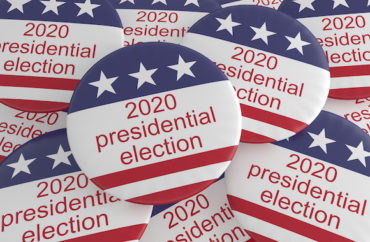 Liberal candidates share mostly similar beliefs in higher education
There are a multitude of Democratic contenders seeking their party's nomination for the 2020 election, with numerous prominent politicians having declared their intention to oppose Donald Trump in next year's contest.
Many of the candidates support a liberalized higher education platform, promising various forms of either "free" or "debt-free" college, as well as gratuitous forgiveness of existing student loan debt.
Bernie Sanders, currently representing the state of Vermont in the United States Senate, has been pitching tuition-free college for a number of years. According to the senator's campaign website, high er education will be a central issue in his 2020 campaign. On his website, Sanders states: "Today, we say to our young people that we want you to get the best education that you can, regardless of the income of your family. Good jobs require a good education. That is why we are going to make public colleges and universities tuition free, and substantially lower the outrageous level of student debt that currently exists."
In 2017, Sanders also pitched a "College for All" act in the Senate. That plan, which never moved forward in Congress, proposed to eliminate undergraduate tuition and fees at public colleges and universities. It was projected to cost $47 billion a year.
Sanders did not respond to multiple requests for comment from The College Fix on his higher ed policy.
Candidate Robert "Beto" O'Rourke has also laid out a plan for higher education. O'Rourke gained national prominence in 2018 after running (and losing) against Ted Cruz for a seat in the Senate. That year, O'Rourke tweeted his support for a "debt-free" college system in Texas. Recently O'Rourke clarified that he is opposed to a totally free college system, rather stressing his support for "debt-free higher education" as well as more generous terms for student loans.
Years earlier, in 2013, as a member of the House of Representatives, O'Rourke voted for the Student Loan Affordability Act, which would have led to the stabilization of interest rates for loans made to undergraduate students under the federal Stafford program.
O'Rourke did not respond to The Fix's requests to discuss his education platform further.
'Fundamental right'
Kamala Harris, currently representing the state of California in the Senate, has been running for president for less than four months, but she's already promising taxpayer-funded universal preschool, along with debt-free college education.
In the past Harris has proposed radical reforms to higher education. In a 2017 article published at Medium, she wrote: "We have to stop burdening our students with outrageous amounts of debt." Harris endorsed the Legislative for All act that year, looking to "make college tuition free for the vast majority of people."
In the Senate more recently, Harris championed the more moderate Debt-Free College Act, legislation that would create "State-Federal partnerships to provide students the opportunity to attain higher education at in-State public institutions of higher education without debt." Harris did not respond to multiple requests from The Fix seeking more information about her plans for higher education.
Massachusetts Senator Elizabeth Warren, meanwhile—whom recent polling data places near the front of the crowded Democratic field—wants to dramatically reform higher education.
In a recent Medium article published last month, Warren outlined her plan for making college free. Calling student loan debt a "crisis," she wrote that "the first step in addressing [student loans] is to deal head-on with the outstanding debt that is weighing down millions of families and should never have been required in the first place." Warren went on to call for "universal free college" as well as "the cancellation of up to $50,000 in student loan debt for 42 million Americans."
Claiming that "a public college education is like a public K-12 education — a basic public good that should be available to everyone with free tuition and zero debt at graduation," Warren wrote that her proposed reform would help "reduce both the Black-White and Latinx-White wealth gaps."
Warren proposed to pay for the plan with an "Ultra-Millionaire Tax," which she described as  a two percent annual tax on those with $50 million or more in wealth.
Warren's office did not respond to requests for comment from The Fix.
Student loan debt at the forefront of most candidates' positions
Pete Buttigieg, the mayor of South Bend, Indiana, has taken a more moderate approach to higher education reform, stating that he does not support free college. In a recent event at Northeastern University, Buttigieg said: "Americans who have a college degree earn more than Americans who don't. As a progressive, I have a hard time getting my head around the idea of a majority who earn less because they didn't go to college subsidizing a minority who earn more because they did."
According to an article from Education Next, Buttigieg recently revealed that he and his partner are "living with six-figure student debt." He expressed support for "expanding existing loan-forgiveness programs for teachers and public servants" and said that "policymakers should look at making it easier to refinance student loan debt at lower interest rates."
According to Education Next, he also stated that it's "a mistake to convey to people the idea that 'you have to go to college'."
Like Buttigieg, tech executive Andrew Yang has expressed his opposition to free college, tweeting that "presenting free college as the panacea to our opportunity woes won't work." Yang has vowed to "control the cost of higher education" and "prevent students from being saddled with lifelong student loan debt."
He plans to accomplish these goals at least in part by having schools reduce the student-to-administrator ratio to 30-to-1 as a condition of public funding. Claiming that the ratio was 50-to-1 in the 1970s, Yang's website states: "If we can get back to that level then college will be much cheaper."
Yang's campaign ignored multiple requests for comment by The College Fix, as did Buttigieg's.
Cory Booker, currently representing the state of New Jersey in the Senate, is in favor of a multitude of proposals that would restructure the U.S. education system. He believes public education is a "right" and supports "universal" preschool and "improved working conditions for teachers." He also believes in allowing students to refinance their loans.
Julián Castro, who formerly served as the Housing and Urban Development secretary under President Barack Obama, tweeted earlier this year that he believes the first two years of college, or an apprenticeship program, should be "accessible and affordable." In January of this year Castro appeared to go even further, stating: "[I] believe that we need to work toward a tuition-free system of public university, college, apprenticeship and certification programs in this country to have the smartest, most well-prepared work force that we can in this 21st century."
The College Fix asked Castro to clarify his position on higher education. Neither the politician nor any campaign representatives responded. According to numerous polls,  Castro ranks last in favorability rating in the race for the Democratic nomination.
MORE: Democrats outnumber Republicans nearly 12 to 1 in social sciences
MORE: Young people love 'free' government programs (until they learn the cost)
IMAGE: cbies / Shutterstock.com
Like The College Fix on Facebook / Follow us on Twitter