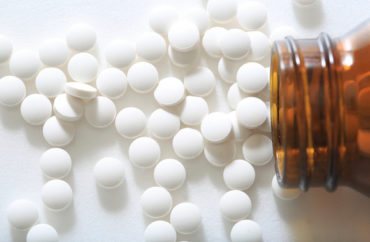 Dentists taught how to administer opioid blockers
In a sign of just how extensive the opioid crisis has become, more and more dental school students are learning a new skill: In addition to filling cavities and cleaning bicuspids, students are being taught how to administer Narcan to counteract the effects of opioid overdoses.
In September, the Penn School of Dental Medicine began requiring all dental students to take part in several Narcan training sessions. "If we want to stop this scourge of deaths, we need to find a method of getting this into the hands of large numbers of people in the public," Dental School Dean Mark Wolff told The Daily Pennsylvanian.
"It's remarkable how the drug reverses what is deadly," Wolff said.
Not just for medical settings
Penn is the first dental school to implement this kind of training, according to Elliot Hersh, a professor of oral surgery in the dental school. School officials hope that this training will allow their students to save lives. The training, however, isn't meant only to be applied in medical settings. The students may encounter opioid overdoses during their medical rotations, but they must also consider the possibility of saving lives elsewhere.
"Our students are young adults, typically between 23 – 30 years of age, that frequent all sorts of social events such as clubs, concerts, sporting events, bars etc," Hersh explained in an email interview with The College Fix.
"And if they see someone unresponsive and barely breathing on the floor, their first thought should be that it might be an overdose of an opioid like heroin and/or fentanyl."
Giving Narcan to someone who has not overdosed—if it is merely a case of someone who has had too much alcohol, for instance—will not harm them, Hersh explained.
Philadelphia, where the Penn School of Dental Medicine is located, is "one of the epicenters for opioid overdose leading to respiratory depression and death," Hersh said. In 2016, there were 2,235 opioid-related overdose deaths in Pennsylvania, a higher rate than the national average.
Other schools offer training
Several dental schools in Massachusetts are also offering Narcan training in the wake of skyrocketing overdose rates. Boston University and Harvard School of Dental Medicine offer various types of Narcan training to their dental students.
The opioid death rate in Massachusetts is over twice the national average. Associated groups are seeking to implement naloxone trainings at nursing schools and schools of social work as well.
Penn's trainings are offered for free by ADAPT Pharmaceuticals. Many students purchased Narcan after the training, Hersh said. A faculty training will also be offered in the coming weeks.
Hersh told The Fix that a major part of the problem is doctors who too easily dispense opioids to their patients.
"General dentists and dental specialists have written scripts for opioids when [they're] not needed… Much more five years ago then now. Then you end up with leftover pills which can be used recreationally or sold on the streets," Hersh said.
He said the training program is ultimately meant to ensure that medical students can deal with a life-or-death situation whenever they're confronted with one.
"We want them to feel confident that they can do what morally they should do," Hersh said.
MORE: At Brown University, mixed messages on illegal drug use
MORE: University's wellness center approaches drug use with 'curiosity'
IMAGE: KOHUKU / Shutterstock.com
Like The College Fix on Facebook / Follow us on Twitter