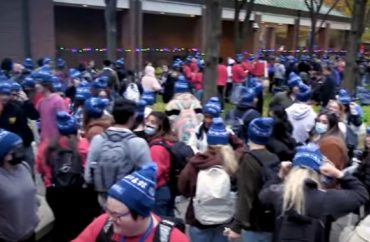 School officials won't explain what information they relied on for decision
DePaul University officials will move all winter quarter classes online for two weeks due to concerns about the omicron variant.
But one medical anthropologist and a key member of the Chicago university's COVID advisory team said he has not been consulted.
"I was not in the room where the decision was made," Professor Craig Klugman told The College Fix on December 7. "So I have no first-hand knowledge of discussions, what information was considered, or who made the decision."
Klugman at one point attended meetings five days a week to advise the Catholic college on how to safely reopen and handle COVID, according to the campus newspaper. The DePaulia described him as an "expert resource" on the task force.
The Fix asked Klugman what data or experts were consulted in the decision making process and what criteria need to be met for online learning to be extended beyond the current timeframe.
On Friday, December 3, DePaul University sent an email to students announcing that the first two weeks of winter quarter classes would be held virtually.
The email cited "information emerging about the omicron variant, its potential impact and the potential surge in COVID-19 cases as we travel and gather to celebrate the holidays" as the reason for this shift to online learning.
The College Fix reached out to a number of decision-makers at the university to ask for information on the data and advice consulted, but has yet to receive a response. The Community Health Team, which has been managing the COVID response, did not respond to a December 8 email.
Neither did Vice President of Student Affairs Gene Zdziarski and Provost Salma Ghanem respond to a December 7 email that asked similar questions. Professor Klugman had suggested The Fix reach out to Zdziarski and Ghanem for further information.
University cited 'directives' from city health department
DePaul also said in its announcement it "will make any other adjustments to our plans, as needed" and "will continue to follow directives of the Chicago Department of Public Health and other health professionals".
The Department of Public Health said it never instructed DePaul to move classes online but that it assumes the university is referring to its general guidance that encourages masking, social distancing, testing and vaccination.
"Last year also during the winter break… a lot of universities decided to do the two weeks virtual as a quarantine kind of thing," Erica Duncan told The Fix in a phone interview on December 9. DePaul's classes during winter term 2021 were almost exclusively online.
"We do meet with a lot of different universities and colleges," to provide guidance, Duncan said, but the new omicron policy came from within DePaul.
MORE: My school forces me to mask outside, alone
IMAGE: DePaul University/YouTube
Like The College Fix on Facebook / Follow us on Twitter