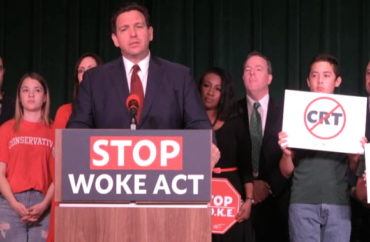 FIRE represents USF student, professor in lawsuit against Florida law
A spokesman for Gov. Ron DeSantis' office said new legislation nicknamed the Stop WOKE act that prohibits mandatory adherence to critical race theory tenets is well within the law despite a new lawsuit that seeks to overturn it.
Bryan Griffin, press secretary for the governor's executive office, said in an email to The College Fix that the Individual Freedom Act doesn't prohibit speech or ideas from free exchange, but rather the concepts cannot be forced on employees as a condition of employment.
He said under House Bill 7, no employer in the Sunshine State is prohibited from communicating about or holding voluntary workshops, seminars or trainings on critical race theory topics.
"The employer simply cannot subject employees to mandatory training on these concepts where the employer attempts to impose the concepts on the employee," Griffin said.
However, a lawsuit filed in September by the Foundation for Individual Right and Expression argues the new law "suppresses viewpoints disfavored by Florida lawmakers."
The foundation argued it "threatens tens of millions of dollars in annual funding for universities that don't crack down on faculty who 'promote' an opinion on a government blacklist, and encourages people to report other Americans to government authorities if they 'advance' those views — all in the name of 'individual freedom,'" FIRE stated in a news release announcing the lawsuit.
The complaint argues the act's enforcement provisions are unlawful in part because the bill encourages students and faculty to report individuals who are "advancing" critical race theory, white guilt, and other controversial topics.
According to its guidelines, if the Board of Governors determines a university violated the law, and did not take corrective measures, it will be ineligible for funding for the next fiscal year.
University of South Florida history Professor Adriana Novoa, a plaintiff in the lawsuit, told FIRE "the government should not tell the people what they can talk and think about."
Novoa has taught for over 20 years and grew up in Argentina, where she said she experienced living under a dictatorship, according to the complaint. Novoa teaches about Latin American, European and U.S. history, including the "process of identity formation, modernism, or the different conceptions of national culture."
When the act passed, she said she had to remove lectures and course materials from her assignments, including readings on Jackie Robinson and segregation in professional baseball, as well as readings related to colonialism and revolutions of indigenous Latin American peoples.
She argues in the lawsuit that history teachers are disproportionately affected by the bill's restrictions because cultural course topics and discussions may be flagged as unlawful for advancing arguments of white privilege or collective guilt.
Also a plaintiff in the lawsuit is USF senior Sam Rechek, who argues the bill violates students' rights because it chills free speech and prohibits what people can discuss on campus.
Rechek is president of the First Amendment Forum, a student organization at USF dedicated to ensuring every "student has the right to speak their mind."
The law has already been clipped by a federal judge. In August, Chief U.S. District Judge Mark Walker blocked Florida's enforcement of a major provision that prohibits certain speech in workplace diversity trainings.
The judge wrote in the court ruling, "If Florida truly believes we live in a post-racial society, then let it make its case, but it cannot win the argument by muzzling its opponents."
FIRE's lawsuit tackles the legislation's higher education component.
Foundation attorney Adam Steinbaugh told The College Fix in an email that "for faculty, it limits their ability to discuss contested issues about race in the United States. For students, it imposes a viewpoint-discriminatory limit on the arguments they can encounter in college classrooms, violating the Supreme Court's prohibition on laws that cast the 'pall of orthodoxy' over college classrooms."
The bill was backed by Gov. DeSantis as a way to keep far-left politics out of schools. In an April news release, he said "there is no place for indoctrination or discrimination in Florida," and students should not be taught to feel shame because of their race.
Griffin, in his email to The College Fix, said HB7 protects the free exchange of ideas by limiting what organizations can require employees to "believe" as a condition of employment.
He said that, according to the new law, prohibited concepts include:
members of one race/color/sex/national origin are superior to another
some people are inherently racist
moral character is dictated by race
only certain races are worthy of respect
certain races deserve discrimination
a person must feel guilt or anguish because of their race
certain virtues are racist or exclusive to a race
The concepts are designed to make individuals believe something, and under the law, ideas "cannot be forced on employees as a condition of employment, etc. meaning there is no choice but for the employee to be subjected to these concepts," he said.
Griffin said the law is not designed to prohibit discussion of concepts listed in the bill but rather provides "such training or instruction is given in an objective manner without endorsement of the concepts."
He said that "keeping employees or students from being forced to think a certain way upon condition of employment and as directed by those with authority or influence over others (employers over employees, teachers over students) protects freedom of thought."
MORE: Stanley Kurtz on how Ron DeSantis can save American higher education
IMAGE: screenshot
Like The College Fix on Facebook / Follow us on Twitter