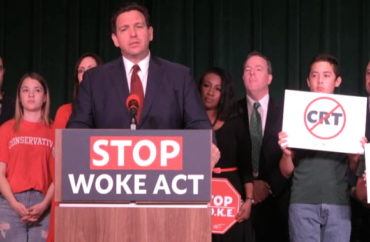 UPDATED 
Injunction blocked part of the law that would cancel or limit workplace diversity trainings
A federal judge blocked Florida's enforcement of a major provision of the Gov. Ron DeSantis-sponsored Stop WOKE Act that prohibits certain speech in workplace diversity trainings.
Chief U.S. District Judge Mark Walker "slammed" the act last week, "criticizing its policies as 'bordering on the unintelligible' as he granted a temporary injunction on the grounds the law violates the First Amendment," according to Politico.
DeSantis proposed in December the Stop the Wrongs to Our Kids and Employees Act, or Stop WOKE Act, to oppose progressive indoctrination in schools, higher education and corporations.
But several Florida employers, including technology company Honeyfund, Ben & Jerry's franchisee Primo and workplace diversity consultant group Collective Concepts, joined forces to challenge a provision of the law governing workplace training on race.
"In their complaint, Plaintiffs argue that the [Individual Freedom Act] is a viewpoint-based restriction on speech that presumptively violates the First Amendment," according to the court's preliminary injunction, which favored the plaintiffs and blocked the key parts of the law. "They also claim that the IFA is both vague and overbroad."
"Under our constitutional scheme, the 'remedy' for repugnant speech 'is more speech, not enforced silence,'" Judge Walker wrote.
"If Florida truly believes we live in a post-racial society, then let it make its case. But it cannot win the argument by muzzling its opponents."
The Stop WOKE Act faces other pending legal challenges, including a lawsuit by a group represented by the American Civil Liberties Union and another filed by a group that includes teachers, according to the Wall Street Journal.
The Foundation for Individual Rights and Expression has also opposed the law on the basis that it violates the free speech protections of the Constitution.
"The new law unconstitutionally prohibits instruction about certain issues regarding race and gender at Florida's public colleges and universities. This bar restricts academic freedom," FIRE's senior legislative counsel Tyler Coward said in a statement to The College Fix on April 26.
Stop WOKE Act went into effect in Florida in July
The act, also known as FL HB 7, or the Individual Freedom Act, was passed by Florida's Republican-led legislature and signed into law April 22 by Governor DeSantis.
The legislation "provides that subjecting individuals to specified concepts under certain circumstances constitutes discrimination based on race, color, sex, or national origins," among other provisions, according to the Florida legislature. It went into effect July 1.
"Subjecting any individual, as a condition of employment, membership, certification, licensing, credentialing, or passing an examination, to training, instruction, or any other required activity that espouses, promotes, advances, inculcates, or compels such individual to believe specified concepts constitutes discrimination," the law states.
These "specified concepts" reportedly include saying "a person, by virtue of his or her race, color, national origin, or sex is inherently racist, sexist, or oppressive" or "bears responsibility for…actions committed in the past by other members of the same race, color, sex, or national origin."
"Floridians have legal protections against discrimination based on innate characteristics," DeSantis spokesperson Christina Pushaw told The College Fix in a May statement.
"Judge Walker has effectively ruled that companies have a first amendment right to instruct their employees in white supremacy," Taryn Fenske, DeSantis' press secretary, wrote in a statement provided to The Fix. "We disagree and will be appealing his decision."
MORE: Free speech groups and Gov. DeSantis disagree on new 'Stop Woke Act'
Editor's Note: This article has been updated with a comment from DeSantis' press office. 
IMAGE: Governor RonDeSantis/Facebook
Like The College Fix on Facebook / Follow us on Twitter