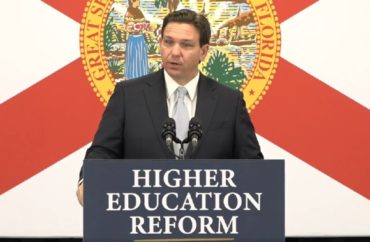 Stop WOKE Act laid groundwork for new regulations
Professors with poor performance ratings can be fired under a new post-tenure review process approved by Florida's public university board on Wednesday.
Florida Gov. Ron DeSantis and the Florida legislature laid the groundwork for the vote with the 2022 Individual Freedom Act, also known as the Stop WOKE Act, which permits Florida's Board of Governors "to require tenured professors to undergo a 'comprehensive post-tenure' review every five years," the Orlando Sentinel reported in November 2022.
The Chronicle of Higher Education reported on Wednesday that two board members voted no and the remaining present members voted yes to the new post-tenure regulation.
Professors will be evaluated on their research, teaching and service as well as "performance of academic responsibilities," "non-compliance with state law," and "substantiated student complaints," among other factors, according to the approved protocol.
Professors will be rated by their deans according to a four-point scale, according to the review document. Deans will recommend to the provost "appropriate recognition and/or compensation" for professors who receive the rating "exceeds expectations" or "meets expectations."
Professors graded as "does not meet expectations" will be placed on a performance-improvement plan, and those rated "unsatisfactory" will be fired, according to the regulations.
An earlier version of the regulation explicitly referenced the "Stop WOKE Act," or House Bill 7, which restricts instruction on race on college campuses and "defund[s] money going toward critical race theory consultants at every level of education, including colleges and universities," The College Fix reported in December 2021.
Professors had objected to the prior version of the regulation that referenced the act, arguing it could be used to fire scholars who taught or researched topics that were politically unpopular, The Chronicle reported.
The version approved on Wednesday had references to H.B. 7 removed, according to The Chronicle.
The modified policy gave rise to additional concerns, however, with some professors questioning its impact on academic freedom, how "substantiated student complaints" would be used to evaluate their peers, and the policy's potentially negative effect on faculty recruitment, The Chronicle reported.
Heather Russell, vice provost for faculty leadership and success at Florida International University, wrote that the approved process "deviates from the normal evaluation process typically followed by most institutions," according to The Chronicle.
Under the new regulations, professors are ultimately evaluated by their provosts, which "moves the evaluative process away from the actual environment in which the work is being conducted," Russell wrote.
However, Chancellor Ray Rodrigues of Florida's State University System argued that most universities in the system had post-tenure review since the mid-1990s, The Chronicle reported.
The new regulation would solidify the review by making it comparable across all state campuses: "We didn't make [this] decision overnight," Rodrigues said.
A recently filed bill in Florida would enact a post-tenure review process that "would codify the power to directly hire and fire faculty to boards of trustees and campus presidents," The Fix reported March 10.
The bill, H.B. 999, was filed by Rep. Alex Andrade as DeSantis continues to work to curb what he calls "woke" ideology within higher education, The Fix reported.
"As a rule, faculty committees control new appointments. This ability of professors to choose their own colleagues is often cited as a bulwark of academic freedom," Stanley Kurtz, a senior fellow at the Ethics and Public Policy Center, wrote March 1 in National Review.
However, "the best way to break the campus monopoly and restore a marketplace of ideas may be to hand power back to boards of trustees and presidents not enslaved to current campus orthodoxies," Kurtz added.
MORE: Federal judge blocks key part of Florida's Stop WOKE Act, rules it violates First Amendment
IMAGE: Governor Ron DeSantis/Facebook
Like The College Fix on Facebook / Follow us on Twitter