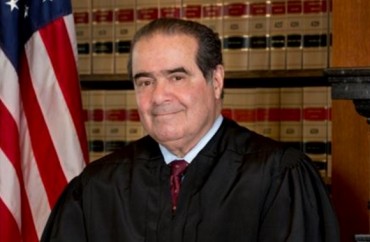 A quick glance at the headlines tells one story:
"George Mason Faculty Senate Questions Decision to Rename Law School After Scalia"
"GMU faculty senate demands answers — and a delay — on renaming law school after Justice Scalia"
"George Mason Faculty Questions Donor Pacts Amid Scalia Furor"
But dig a little deeper, and the reality of the matter is "GMU faculty" are not united on this — not at all. And in fact, there are plenty of law professors who want the law school named for the late Supreme Court Justice Antonin Scalia.
"I haven't heard ANY complaint from anyone associated with the law school [about naming it after Scalia]," George Mason U. economics Professor Tim Groseclose told The College Fix in an email. "Those folks are extremely excited. One of the great things about the donation is that it comes at a time when law schools are hurting. Some excellent faculty across the country are looking for a job or promotion. Now George Mason is going to be able to hire them."
Attorney Brian Miller, who graduated from George Mason University law school last year, told The College Fix that "every professor I have read speak out against the renaming are not from the law school – they are professors from other branches of the university. The Law School faculty, when they have spoken, have been supportive."
Faculty vs. Faculty 
Meanwhile, two GMU faculty senate resolutions passed Wednesday ask for a delay in naming the school and demanded answers on funding mechanisms bringing about the change.
The $30 million in private donation bankrolling the name change and law school expansion — $10 million of which is coming from the brothers libs love to hate, the Charles Koch Foundation — comes with provisos that some faculty allege would give donors control of the school's ideology. Professors driving this effort have also complained they believe Scalia is a divisive bigot.
Meanwhile, it appears no one in the law school is on board.
Distribution of the GMU faculty/staff signers of the anti-Scalia Law School petition. Notice any pattern? pic.twitter.com/mLLzAvhFEL

— Phil Magness (@PhilWMagness) May 5, 2016
And even the approved resolutions had plenty of nays. One passed 21-13, another 25-12, according to Inside Higher Ed.
One law professor read his peers the riot act over how they are trying to railroad the whole deal. The Washington Post reports that Lloyd Cohen, a member of the faculty senate who teaches at the law school, opposed the motion with this statement:
Consider the irony of this body's proposed resolution: In purporting to take a stand in favor of academic freedom this body would adopt a statement that constitutes one of the most egregious attacks on academic freedom not only in the history of this university but in higher education in this country.

This body is prepared to accuse the faculty and administration of the school of law of selling out its integrity, independence, and academic values for a pottage — all while hiding under the gutless guise of expressing "concerns" about public perceptions and other weasel words designed to disguise what this really is — an unprecedented assault on the academic freedom of one unit of this university by a mob of faculty from the rest of the university.

And let's not kid ourselves — the whole world knows what is going on here. If this were a gift from George Soros to create the Harry Blackman Law School we would not be here today.

The political agenda of this body is transparent.

And it is the transparency of this political agenda to attack academic freedom cloaked in the garb of a purported defense of academic freedom that leads me to call on every Senator to think about the principle that you would be voting for today if you go along with this statement.

Indeed, if this assault is in the name of defending academic freedom, then that concept has lost all meaning.
The real deal 
Groseclose, in an email to The College Fix, suggested protesters have ulterior motives — some professors don't like where this donation will take GMU.
"If you have strong beliefs in the rule of law and originalist jurisprudence, then George Mason is the place is to go to law school. I don't even think there's a close second," he said. "I expect more and more conservative supreme court justices to hire their clerks from Mason and not from Harvard, Yale or the other Ivy leagues. I won't be surprised if, ten or twenty years from now, we see more more Supreme Court clerks from Mason than any other law school."
"You have to understand that lots of those protesters are not nationally renowned scholars. Their jobs are threatened if Mason suddenly becomes a top-10 or top-20 university."
Miller, the GMU law grad who today works as an attorney for the Center For Individual Rights, told The College Fix the objections to the name change are deeper than just disagreeing with Scalia, that protesters believe "his views are bad and that he was bad, and that it would therefore be inappropriate to honor him."
"This is the same worldview that is at the root of many of the recent campus protests and attempts to stifle, chill, and shout down speech that students disagree with," Miller said in an email. "It's troubling to think about the implications for free speech and the quality of our public discourse generally when someone with a record of public service to his country cannot be honored because he held the wrong political views."
"Justice Scalia was a Supreme Court Justice, a teacher, a dedicated public servant, and thought the constitution didn't say anything either way about abortion or gay marriage. A litany of good things and then an apparently bad thing. But for this we can't honor his memory," Miller added. "It's ironic the faculty senate condemns Justice Scalia for polarizing our political debate when it is they who are reducing often complex legal arguments to nothing more than 'hateful and offensive comments.'"
'Great jurist who had a profound impact'
Thankfully, GMU President Ángel Cabrera has indicated he will fight for the name.
In a memo to faculty he stated in part:
In a large and proudly diverse university like ours, it is not surprising that the opinions of an influential individual like the late Supreme Court Justice Antonin Scalia would generate a wide variety of reactions. I acknowledge and respect the fact that some of you find some of his opinions objectionable and even personally offensive.

Agreement with his views is, however, not the reason why we are renaming the law school for Justice Scalia. We are not endorsing his opinions on any specific issue. We are recognizing a man who served our country at the highest level of government for 30 years and who many experts of diverse ideological persuasions—from faculty colleagues in our law school, to his peers on the Supreme Court, to the president of the United States—consider to have been a great jurist who had a profound impact in the legal field.
Like The College Fix on Facebook / Follow us on Twitter