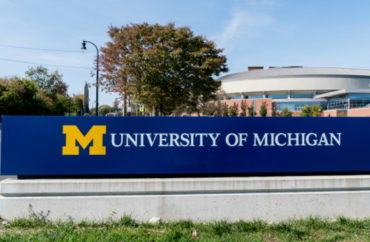 An initiative by the University of Michigan to hire 20 new "anti-racism" faculty has moved into the third round of hiring, according to a recent statement from the school.
"The Anti-Racism Faculty Hiring Initiative, one of the Office of the Provost's programs and activities to address systemic racism, will begin its third round of proposal submission and review in March," the Feb. 11 announcement stated.
In 2021, the Michigan provost announced the school would be hiring 20 new tenured or tenure-track faculty members with scholarly expertise in racial inequality and structural racism to schools and colleges across campus.
A spokesman for the school declined to provide The College Fix with an estimate of the cost of the new hires.
According to a recent study of 65 universities by the Heritage Institute, Michigan has "by far the largest" number of staff whose jobs are creating and advancing Diversity, Equity, and Inclusion initiatives. The study found 163 employees at Michigan whose primary role was to advance DEI on campus.
Later, an independent National Review analysis found 167 such employees, up from 40 in 2002.
"Between 2002 and 2014, U-M averaged 67 DEI staffers per year," National Review found. "Since 2015, it's been 129, almost double, and rising."
According to the school, all "cluster initiative positions" will be co-funded by the provost and participating departments. For new hires, the provost will provide 50 percent of base salary as well as 50 percent of "start-up costs up to a predetermined level."
Other positions may be created and funded by the departments themselves, without aid from the provost. According to the school's budget numbers, the provost's 2022 proposed budget is $42.3 million.
"Using scholarship and research to illuminate and address societal challenges is an important part of the university's mission," said Provost Susan Collins in a statement announcing the new initiative. "The university's strong record of work on race and racism will be augmented and extended by hiring these eight new faculty members in the critical areas of health care and the use of technology."
Additionally, the school committed $260,000 in October 2020 for "combating racism" projects, such as "Virulent Hate: Anti-Asian Racism and Resistance During the COVID-19 Pandemic," "Democracy's Denominator: How Citizenship-Based Redistricting Impacts Racial Minority Voters," and "Beyond Rhetoric: Confronting and Combating Racism in Genesee County, Michigan."
The University of Michigan Has At Least 82 Full-Time Diversity Officers at a Total Annual Payroll Cost of $10.6M. That Would Support Full In-State Tuition for 708 Students. pic.twitter.com/hdvgCMaSAc

— Mark J. Perry (@Mark_J_Perry) December 31, 2018
UM spokesman Rick Fitzgerald declined to answer a number of questions posed by The College Fix for this article. However, Fitzgerald provided National Review with a lengthy statement defending the school's commitment to diversity "in all its forms."
"We, as an academic community, are stronger when we have more diverse perspectives," Fitzgerald told National Review. "There also will be situations where our own ideas are challenged and that experience is not a comfortable one. At U-M we embrace that."
He also said the public university's DEI work has led to "real tangible changes and improvements" on campus, "but there is more work to be done."
"To name a few of our successes," he wrote, "we have implemented innovative strategies aimed at increasing socioeconomic diversity, seen progress in the university's capacity for scholarship focused on dismantling systemic racism, seen our faculty become more diverse in the past two decades and enhanced our students' understanding of the role of race and ethnicity through course revisions and the development of new courses, within the respective fields and disciplines they are studying."
But the recent focus on DEI and gender politics has also handed the school some significant embarrassments, as well. In October, the school briefly suspended a famous classical music composer for showing a 1965 version of Shakespeare's "Othello" to his class. Some students had complained the film featured an actor in blackface.
In 2019, the editorial page of the Detroit News excoriated the university for its growing DEI staff load, saying it "exemplifies the trend of bloated university administrations which makes going to college more costly for students."
In March 2021, the Students of Color Liberation Front sent more than 100 demands to the school, including demands for new race-based faculty chairs, and time off for Native American religious ceremonies. Soon after, the school committed to the new project to hire 20 new "anti-racist" faculty.
MORE: Inflated diversity bureaucracy conquers — and divides — the University of Michigan
IMAGE: Ken Wolter / Shutterstock
Like The College Fix on Facebook / Follow us on Twitter