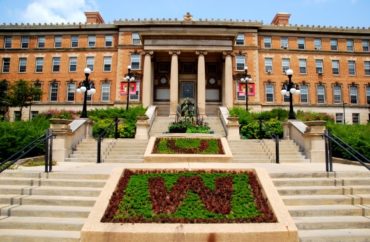 UW-Madison 'deeply sorry' for scheduling conflict 
The start of the coming fall semester for some University of Wisconsin System campuses will fall on the Jewish holiday Rosh Hashanah, a decision that has some saying they feel excluded and disrespected by their schools.
Known as the Jewish new year, Rosh Hashanah is typically celebrated by observers with prayer services as well as family gatherings where meals are shared.
"This is an overlap which we should have identified when schedules were being set. Our process didn't work in this instance and for that I'm deeply sorry," UW-Madison Chancellor Rebecca Blank told students in an email Tuesday.
She added that students will not be penalized for their absence on September 8 and has asked instructors to exercise flexibility. She also noted officials will work to ensure this oversight does not happen in the future.
Greg Steinberger, president of University of Wisconsin Madison's Hillel chapter, told The College Fix the holiday is typically one of restricted activities for those who observe it.
"In general, this is one of the days that has restrictions on normal life, working, doing the things that one does typically. Often people do not work or some communities do not go to public school, or their schools are canceled or what have you," Steinberger said via email Monday.
Rosh Hashanah 2021 occurs over three days from September 7 through 9. It will coincide with the start of the academic year at six UW schools: Madison, La Crosse, Oshkosh, Parkside, Stout and Superior.
In an April letter from Hillel International, its leaders asked the system to reconsider this start date in order to allow students to celebrate their faith.
"We believe that no student should be forced to make a choice between attending the first day of classes and observing an important religious holiday," the letter reads.
"Unfortunately, starting fall instruction on Rosh Hashanah, among the very holiest times on the Jewish calendar, sets an unwelcoming and exclusionary tone for the Jewish community across campuses and is in direct conflict with the UW System's own stated inclusion planning process. This conflict could have, and ought to have, been avoided by those who set the University calendar several years ago."
In response to the letter in June, the UW system sent communications to each of the six schools asking for future action to avoid similar conflict. While they regret the conflict of schedules, chancellors said they will be unable to accommodate an adjustment to the start of the academic year due to a number of actions that are already in motion for the schools.
"We looked first at simply adjusting our calendar. Unfortunately, due to the complexity and inflexibilities in our underlying administrative systems, it is not possible to change start-dates at this point in time. The start date gets set far in advance and it affects all sorts of behind-the-scenes aspects of our work, including student financial aid packages, such as loan promissory note and repayment obligations, and separate federal and state reporting requirements," Blank had told Thompson.
While the schools are regretful of interrupting the holiday, Steinberg told The College Fix that he wishes more could be done to allow Jewish students the opportunity to worship uninterrupted on Rosh Hashanah.
"We appreciate the regret and we would really like to see the date changed; that would be best for everybody from our opinion in terms of the holiday," Steinberg said.
As UW Madison junior Ben Spielman told The College Fix students will make do with the conflict.
"I would say that scheduling conflicts between school and Jewish high holidays such as Rosh Hashanah are pretty normal occurrences for a lot of Jewish students," he told The Fix.
"I think that high school is the place where many Jewish students make the decision to skip class for service, as I did, or go to school, so encountering this same sort of issue in college is pretty commonplace," he said.
"Ideally, there would be no class on holidays such as Rosh Hashanah, but it is what it is."
MORE: Pomona student government approves sweeping anti-Israel BDS resolution
IMAGE: Youngryand / Shutterstock
Like The College Fix on Facebook / Follow us on Twitter