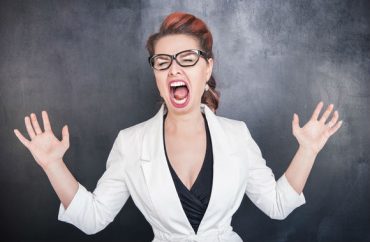 Although it behooves college administrators to attend university events devoted to racial issues, there's the matter that, especially if you're a Caucasian, no matter what you do it won't be good enough.
Iowa State President Steven Leath was in attendance at the school's Conference on Race and Ethnicity (ISCORE) on Friday and had just assumed the podium to speak … when this happened:
Student Itzel Zuniga stood up and interrupted Leath in an ironically capitalist style — reading a prepared message from her smartphone into a megaphone, according to a report in The Iowa State Daily.
"I have stood on that stage, sharing my experience as a woman of color at this university and I was not listened to. I am tired of my, and my peers' trauma, being used as a tool for white educators on this campus," the women's studies major (surprise!) declared.
Naturally, too, Leath's efforts for students "impacted by President Donald Trump's actions thus far" have been woefully wanting.
WATCH: Student protestor interrupts @IASTATE_Pres Steven Leath's speech at #ISCORE https://t.co/MjF6AFc1Ts

— (((Hank Zimmerman))) (@HWZimmerman) March 3, 2017
Snaps of support resounded within the room while silence occupied others.

The statement came after months of tension on campus, where students called for a stronger condemnation of white heritage posters found on campus in October 2016 and after protesters marched to Beardshear Hall in November 2016 to deliver the message of "not my president" to President Leath.

"By allowing Donald Trump on this campus and refusing to shut down white supremacy, you have put our safety at risk," Zuniga said. "You hang out and spend time and spend our tax money with racists."

Zuniga did not stop there.

"You sir, are a racist," Zuniga said. "You do not deserve the brilliance of a single student of color in this room."

Zuniga concluded her statement by asking others to join her in solidarity as she walked out. A group of 40 to 50 people were reported leaving.
President Leath issued a statement following the conference, noting that "It is unfortunate that this student decided to express her feelings through personal attacks on me and in a way that disrupted a program that aims to bring our university community together.
"Launching personal attacks and treating each other with disrespect is not the way to create a campus culture that supports diversity, inclusion, and equity; that is the antithesis of the Principles of the Iowa State Community."
MORE: Iowa State provides 'Ouch! That Stereotype Hurts' training to local community
MORE: Iowa State deletes 'Three Amigos'-inspired tweet wishing campus happy Cinco de Mayo
Like The College Fix on Facebook / Follow us on Twitter
IMAGE: Shutterstock