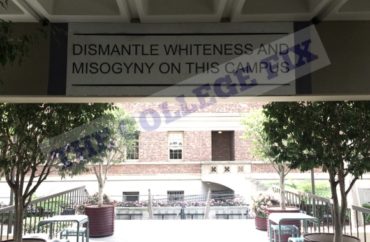 An artistic mural has been installed at the University of Southern California that declares "dismantle whiteness" in big, black and white capital letters, one part of a larger display designed to spark conversations regarding "racism, sexism and xenophobia," according to its creators.
The mural was designed by the feminist artist collective When Women Disrupt in conjunction with students in the class "Women: Designing Media for Social Change."
Recently installed at an entrance to the Annenberg School for Communication and Journalism building, it depicts large sketch drawings of four women of color on walls flanking the doorway with the words "DISMANTLE WHITENESS AND MISOGYNY ON THIS CAMPUS" posted on the ceiling above it.
"The installation is intended to spark dialogue," communications Professor Alison Trope said in a statement to The College Fix. "To that end, the signage is meant to offer grounding of terms and ideas. There is no expectation that everyone agree with the statement offered by the artists, but hopefully viewers can acknowledge the experience of peers on campus around these issues."
"In fact, the text was derived from conversations with students about race, gender and class issues on campus. There have already been many generative conversations prompted by the work—by those who align with the sentiments and those who do not," she said.
An informational flyer near the display further explains the exhibit.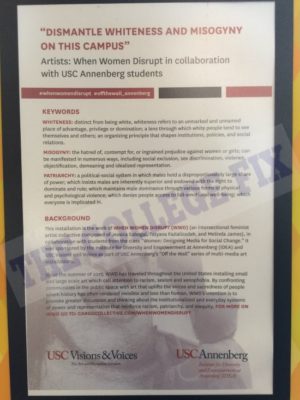 One of the key terms on it is "Whiteness" and is described as "Distinct from being white, whiteness refers to an unmarked and unnamed place of advantage, privilege or domination; a lens through which white people tend to see themselves and others; an organizing principle that shapes institutions, policies, and social relations."
The flyer also lists some background of When Women Disrupt, described as "an intersectional feminist artist collective."
"Since the summer of 2017, WWD has traveled all throughout the United States installing small and large scale art which call attention to racism, sexism and xenophobia. By confronting communities in the public space with art that uplifts the voices and sacredness of people whom history has often rendered invisible and less than human, WWD's intention is to provoke greater discussion and thinking about the institutionalized and everyday systems of power and representation that reinforce racism, patriarchy, and inequality," it states.
According to an article in The Daily Trojan, several students were not satisfied with the location of the artpiece, as they believe it should have been placed in a more highly traversed area. USC student Claire Porter blamed the administration.
"It's placed in a very hidden area of campus where it's not usually seen and I think that speaks to the administration and how they want to frame and direct the conversation and the impact — the fact that it is inward-facing not outward facing — all of these factors are intentional from the administration and I think this project would have been much more powerful if the artists were given more freedom," Porter said.
MORE: Pro-life pictures taken down – within hours – at USC
Trope also told The Daily Trojan that she was disappointed after the mural was denied by the administration to be placed on Watt Way, a more public area.
"It's disappointing to me because I think it could have had a great impact on our community in terms of spurring dialogue and conversation about race and gender and campus climate," Trope said.
According to an USC Annenberg School for Communication and Journalism post on Facebook touting the piece, the "work was sponsored by the Institute for Diversity and Empowerment (IDEA) and USC Visions and Voices as part of USC Annenberg's 'Off the Wall' series of multi-media art installations."
MORE: University to host 'whiteness in decline' event
Like The College Fix on Facebook / Follow us on Twitter