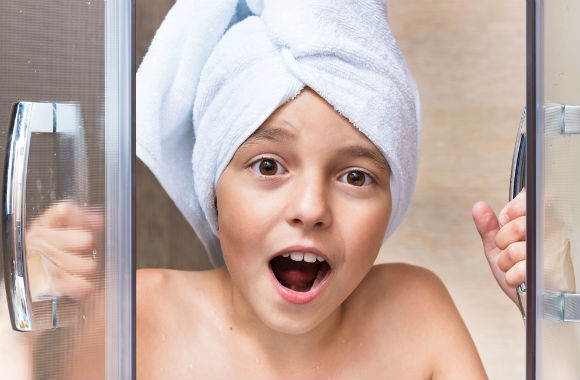 Chicago-area families who don't want their 14- to 17-year-old daughters to undress and shower with a boy staring at their naked bodies filed a lawsuit against the Department of Education and their high school.
Fifty-one families, representing 73 parents and 63 students, joined with the Alliance Defending Freedom and Thomas More Society to challenge the feds' interpretation of Title IX and the legality of the agency's guidance in federal court, the alliance said in a release today.
Township District High School 211 was already letting its students use the restrooms that correspond to their perceived gender identity when Education, citing Title IX, threatened to revoke $6 million in federal funding if the school didn't let a biological male into the girls' locker room as well, according to the suit.
The high school's policies create
an intimidating and hostile environment for the girl members of Students and Parents for Privacy [the plaintiffs' organization name], some of whom are as young as 14 … . As a direct result of Defendants' Policies and actions, every day these girls go to school, they experience embarrassment, humiliation, anxiety, fear, apprehension, stress, degradation, and loss of dignity because they will have to use the locker room and restroom with a biological male.
51 families sue feds, Chicago-area school district for violating student privacy https://t.co/OUBRVhca1l pic.twitter.com/CTarIKOb5p

— AllianceDefends (@AllianceDefends) May 4, 2016
In response to the policies, according to the suit, "some girls actively avoid the locker rooms at school," some avoid the restrooms, one is wearing gym clothes under her school clothes all day, some are "risking tardiness by running to the opposite end of the school, during short 5 minute passing periods, to try to find an empty restroom," and
other girls are changing as quickly as possible in the locker room, avoiding all eye contact and conversation, all the while experiencing great stress and anxiety over whether a biological male will walk in while they are unclothed.
The lawsuit claims that the biological male spurned the school's repeated and increasingly favorable offers to accommodate him short of letting him in the girls' locker room. (The suit also names the Justice Department, which enforces Title IX.)
RELATED: Georgia lawmaker sues Department of Ed officials for exceeding authority in campus rape rules
After filing a complaint with Education's Office for Civil Rights, the biological male started using the girls' locker room without permission:
Four girls and one parent contacted the coach and expressed how embarrassed, anxious, uncomfortable, and distressed the girls felt using a locker room and being forced to change with a biological male.
The plaintiffs also held a press conference today. Note the families of color.
#transgender lockr rm fed suit/@AllianceDefends @ThomasMoreSoc filed on bhalf/51 families in #Palatine skul dist 211 pic.twitter.com/t20ycd60mr

— Maudlyne Ihejirika (@maudlynei) May 4, 2016
Not only is Education's interpretation of Title IX off base, but the feds are explicitly violating Title IX by discriminating against girls who now have no expectation of bodily privacy while in various states of undress, the suit says.
Education's guidance that says gender identity is covered by Title IX – despite the statute only covering "sex" in the biological sense – is not legally binding, according to the suit:
Indeed, recognizing that Title IX does not protect against discrimination because of "gender identity" (but only against discrimination because of biological sex), beginning in 2011, Senator Al Franken has repeatedly introduced legislation modeled after Title IX that would protect against gender identity discrimination in the education context. … That legislation has failed to pass every year it has been introduced.
As have other recent lawsuits against the department, the parents' lawsuit says Education violated the Administrative Procedure Act by failing to put its guidance through a notice-and-comment procedure before using it as a club to threaten schools.
Regulations that actually went through notice-and-comment explicitly allow schools to "provide separate toilet, locker room, and shower facilities on the basis of sex" without risking federal funding, the alliance said in the release:
"It's a massive step backwards to force women to give up their inherent right to bodily privacy," said Thomas More Society attorney Jocelyn Floyd. "To impose such a rule on still-developing teenage girls, as they're already struggling with puberty's changes on their bodies and social pressures to look a certain way, undermines their dignity and tells them that their rights don't matter. This isn't a message our schools should be sending to our girls."
Read the release and lawsuit.
RELATED: Getting a judge to recognize anti-male bias in campus rape cases is a tall order
Like The College Fix on Facebook / Follow us on Twitter
IMAGE: VaLiza/Shutterstock