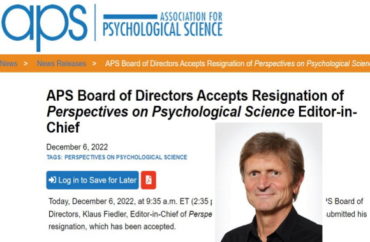 'I shared this epic story of a breakdown of professionalism with my students to warn them of the kind of world they now live in,' one professor wrote
Dozens of academics signed an open letter addressed to the board of the prestigious Association for Psychological Science protesting the forced resignation of the journal's former editor-in-chief, Klaus Fiedler, following a charge of racism.
Fiedler's ouster followed an ill-fated attempt to examine the role of diversity activism in psychological scholarship, The College Fix reported Jan. 20.
Fiedler's fall was set in motion by the publication of an article titled "Dealing with Diversity in Psychology: Science or Ideology" by Bernhard Hommel, a faculty member at TU Dresden in Germany and Shandong Normal University in China.
In his article, Hommel critiqued a 2020 Perspectives paper co-authored by Stanford University psychology Professor Steven Roberts.
Roberts' paper had argued top-tier psychology journals have not published enough articles on race because the field is dominated by white editors-in-chief, researchers and participants. It argued "systemic inequality exists within psychological research" and "systemic changes are needed."
Hommel disagreed, citing Roberts' paper as an example of the encroachment of "political activist arguments and reasoning in scientific communication about diversity," The Fix reported, adding:
As editor of Perspectives, Fiedler tried to recruit peer reviewers for Hommel's paper. Roberts was among them, as revealed by a lengthy series of email communications Roberts uploaded to a pre-print server alongside other documents. Roberts, however, turned down this invitation in April 2022.

Psychologists Lee Jussim from Rutgers University, Keith Stanovich from the University of Toronto, and Wolfgang Stroebe from the University of Groningen in the Netherlands, conversely accepted their respective requests from Fiedler.

Impressed by the comments of his three reviewers on Hommel's critique of Roberts' work, Fiedler invited his reviewers to adapt their comments into commentaries to be published alongside the Hommel critique.

In the interest of fairness, Fiedler also invited Roberts to submit a commentary of his own – an invitation Roberts this time accepted…

In November 2022, Roberts, clearly frustrated with Fiedler and the process, withdrew his commentary from consideration, before later posting it online on December 2, accompanied by the aforementioned email correspondence and a discussion of his experience.
Roberts had claimed the critiques of his work by Hommel, Jussim, Stanovich and Stroebe were "collectively unsound, unscientific, ad hominem, and racist," though he offered the flimsiest of evidence for his more damning claims, including an apparently innocuous reference by Jussim to a line from "Fiddler on the Roof" involving horses and mules. Roberts claimed the usage of "mule" was de facto racist because it has been used as a derogatory term for black people.
Following Roberts' accusations, a "meltdown" ensued, in which "a mob of almost 1400 academics … denounced all of us as racists," Jussim wrote Dec. 20.
That "mob" "called for APS to summarily execute an order to dismiss Fiedler," Jussim stated. "They obeyed. Days later, Fiedler was gone."
"As of this writing, five of six PoPS associate editors resigned in response to this meltdown," Jussim continued. "About 1/3 of the members of the consulting board also resigned."
Perspectives on Psychological Science board member 'appalled' by treatment of Fiedler
"I have followed the rapidly unfolding story of the dismantling of Professor Klaus Fiedler's reputation," Joachim Krueger, a professor of psychology at Brown and one of the signatories of the letter protesting Fiedler's ousting, wrote in his own open letter, published Dec. 20. Krueger addressed his missive to the Association for Psychological Science Board of Directors.
"I am telling you that I am appalled because I cannot think of a stronger word," Krueger wrote. "This morning I shared this epic story of a breakdown of professionalism with my students to warn them of the kind of world they now live in."
"I must lecture you, however, on your lack of wisdom, your inability to let this sink in, your helplessness in the face of instinct, your surrender to a mob, your lack of goodwill," Krueger continued. "You are at fault!"
Dozens of scholars echoed Krueger's thunderous denunciation of the mob in the letter sent Dec. 15 in defense of Fiedler, albeit in milder language.
"What is the evidence" for Fiedler's supposed racism, the authors asked rhetorically.
"[Do] the writers of the letter and its signees believe that a member of our community has the right to defend themselves before their reputation is tarnished by mob judgment?" they wrote.
Even more, "it is unclear what is the basis of the accusation, and whether the conclusion 'Klaus Fiedler is a Racist' is indeed the most plausible interpretation of the evidence," they continued.
"Do we wish to live in an academic environment wherein mistakes are treated by such a swift, unequivocal repudiation of your character by a thousand members of your community?" they stated. "Is this the route to a more just, egalitarian society?"
The writers sent the letter Dec. 15 to the Association for Psychological Science, and they invite academics of all career stages, including graduate students, to add their names to the list.
MORE: Law students quit journal after faculty editors include critic of transgender ideology
IMAGE: Association for Psychological Science
Like The College Fix on Facebook / Follow us on Twitter