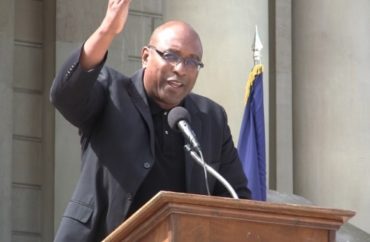 Does the American Dream truly exist? If it does, why has much of my father's hard work, published writings, and faith in God and country been ignored by premier American colleges, universities and law schools that he reaches out to to obtain a faculty position?
I've watched my dad ponder this question all my life, and it's one he's actually asked for the past 35 years.
My name is Stone Washington, and my father is a blacklisted black law professor and conservative intellectual who has for nearly four decades waged a one-man battle against institutional and ideological bias in higher education.
He has sent thousands of letters and emails, presenting his case before many of America's top-rated colleges, universities and law schools. Their general response? Silence.
A little about my dad: he taught legal courses at National Paralegal College, studied at the University of Michigan, and later was a staff editor on the highly-ranked Michigan Law Review — despite no formal legal training or preparation at that time. He tested in.
He pursued graduate studies and post-graduate studies in history at Harvard University and in law at Harvard Law School in the late 1980s. Ironically, he attended Harvard Law School during the same time Barack Obama was there, although he has no memory of him at all.
In an abstract of his magnum opus, titled "Nigger Manifesto," he explains the contrast between his experience and Obama's easy streak:
"I came to Harvard GSAS the same year Barack Obama (1988), and first attended law school there in Jan. 1989, 4 months after Obama began his legal studies … yet I made law review 2 years before Obama's contrived 'historical' achievement of becoming the first Black President of the Harvard Law Review."

… "While his was an affirmative action appointment, I earned my law review appointment as Editor on the Michigan Law Review literally from off the streets – without a law class, without any prior legal training or legal experience, without any academic mentoring by any law professors."
I'm proud to say my dad has written 30 law review articles and scholarly works, published 11 books in multiple countries across the world, has had many of his writings accepted in the Chambers Library of the Supreme Court, including his latest five-volume opus collecting over 1,200 essays, articles, monographs, law review manuscripts, and Socratic dialogues.
Despite these impressive academic accomplishments, he has been slandered, dismissed and mostly ignored by most of his colleagues, former professors, and administrators.
Why? As quoted in the first part of his 2017 letter to the newly appointed dean of Harvard Law school John Manning:
"Because 95% – 100% of all faculty and administration inside the overwhelming majority of America's colleges, universities, law schools, graduate schools are controlled by the political Left—the Progressives, Marxists, Globalists, Liberals collectively allied with the Democrat Socialist Party, of whom I am not affiliated, thus I am of necessity blacklisted."
Basically, conservatives need not apply.
My dad had been raised a liberal Democrat. Yet, as he tells me, he felt a hole in his heart and mind that the political history he was given contradicted history and reason. During President Ronald Reagan's second term, this conviction grew.
As a scholar of history, my dad has taught me that blacks were granted freedoms and equality by the Republican and abolitionist forces that fought for their liberation against the Democrat and Confederate factions who battled to maintain their enslavement — and that battle continues into modern times.
My family calls this an enslavement of the mind. Despite blacks being free from slave chains, they have enslaved their own minds to the modern Democrat plantation.
That's why my father maintains websites and blogs like Ellis Washington Report, to highlight and fight this ideological war and eventually help liberate black Americans from the iron-grip of the left.
MORE: 'I'm off the plantation, bro!' Video of black student goes viral. 
Like The College Fix on Facebook / Follow us on Twitter